Exploring the world of animals with infants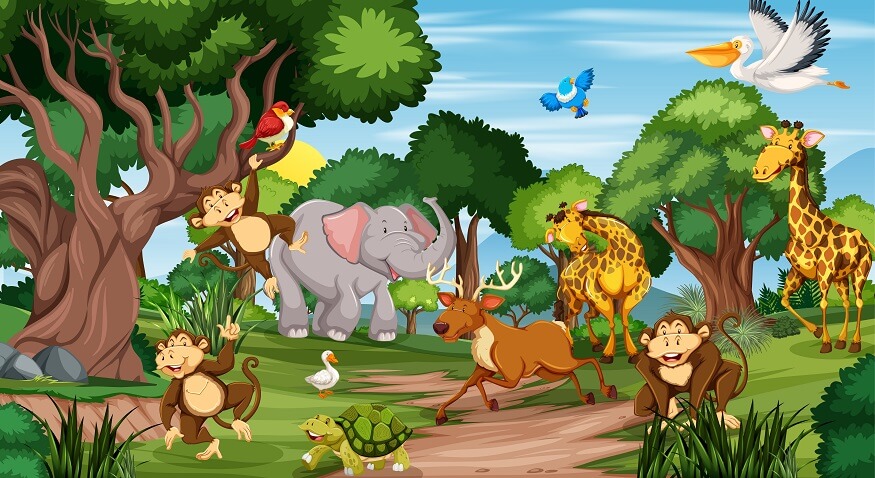 Disney World is probably one of the most magical places in the world! Attracting about 58 million visitors each year on average, it is no surprise that Disney World keeps making it to the list of the most popular destinations year over year. Truly, there is so much to explore there, it is like a mini universe of its own. One that kids in particular love to visit again and again.
While Disney World offers several different themed parks that you can explore (think Epcot, Magic Kingdom, Hollywood Studios and more), one park that parents end up overlooking is the Animal Kingdom.
We understand why though. It can be intimidating. Especially for kids. Kids who are about 5-7 years old and have a fair understanding of the world might feel a little afraid to witness the multiple shows and activities of Animal Kingdom. But infants will have a gala time! In fact, it can be a great way to know about the types of animals for kids.
Without further ado, let us check out the many enriching experiences your toddler can have at Animal Kingdom without you having to worry about their safety.
Catch any one their brilliant shows

If you want digestible tidbits about the various types of animals for kids in a fun musical format that also familiarise them with classic stories, you must watch a show at Animal Kingdom! There are many great stories to choose from, from Finding Nemo to Lion King. The colourful song and dance will get your toddler giggling in glee! The show of Up! also features birds doing neat tricks, which babies are bound to enjoy.

Go for a ride

When it comes to knowing about animals for kids, nothing is better than practical experience. If musicals and shows are not your thing, you can take your toddler for one of the several animal-themed rides at Disney World.

One of our favourites is the Kilimanjaro Safari. You can find a plethora of wild animals lounging in the sun if you take this time during the early hours of daytime. From lions lazily snoozing in the sun to elephants and giraffes roaming in the wild, there are plenty of sights to see here. Our advice is to avoid visiting this ride at midday as most of the animals would generally be hiding and sleeping somewhere.

The boat ride called Pandora – The World of Avatar is pretty cool too. It is loaded with glow in the dark and bioluminescent that will wow your wee ones and hold their imagination like nothing else! You could also try the Wildlife Express Train, which can be a great lesson about animals for kids.

Take your kids to the play area

Once you are done finding animals, their babies and homes during the safari, you can take a break at one of the kids play areas at Animal Kingdom.

The Boneyard is a fossil-themed park where toddlers can do one of their favourite things. Dig! There is a rope bridge too, which you can avoid if you have a toddler to take care of. Other than that, there are plenty of seating areas where you just catch a breather with your baby under the cool shade of trees and pergolas.

You can even take some much needed downtime from animals, babies and their homes at the Discovery Island. This lush space is lined with trees with one of them that features 300 animals carved into its bark! Your toddlers will have a lot of fun striking a pose here or tracing their tiny fingers through carvings and recognising all of the animals on it!

Stroll around in the trails

While you will not find domestic animals information for kids at Animal Kingdom per se, you will find a lot of other cool things to do, such as walking the trails!

These trails are perfect for naptime! Quiet and shaded, you can run your strollers through the trail and soak in the sights and sound while your baby squeezes in some snooze time.

Do not worry if your baby is awake during your trail expedition though. There is still a lot of scope to have fun. You can try out the Maharajah Jungle Trek, the Gorilla Falls Exploration Trails, or even the Discovery Island Trails and be witness to beautiful sights. There are plenty of educational placards along the way so you can even use these trails as a chance to teach your kids something new.

Grab a quick bite

Once the sun starts to set on your Animal Kingdom exploration, you can wind up with your tiny one at a restaurant and unwind with a good meal.
Needless to say, Animal Kingdom features several restaurant options too, and you can take your pick from Pizzafar or Rainforest Cafe, though admittedly the latter can be a tad scary for children due to this thunderstorm soundtrack.
Alternatively, you can head to Yak and Yeti and enjoy its super cute set-up with your tiny tot. And you can round off the whole thing with a visit to Satu'li Canteen for some amazing desserts!
A list of places you should avoid:-
Since you will be heading out to Animal Kingdom with a toddler, we suggest avoiding certain rides and sections of the park which can be either risky or age inappropriate. The rides called Dinosaur and Dinoland can be quite intimidating for kids. Expedition Everest can be a little risky for toddlers. While the show It's Tough To Be A Bug's Life with its unexpected characters and moments can scare kids.
Animal Kingdom can be an experience to remember for a lifetime for you as a family, while proving to be educational and enlightening. We take the same interactive approach to learning at EuroKids, teaching children about everything related to nature and its creatures, right from domestic animals information for kids to wild animals. We cover all of the basics. To know our methods and ways, visit your nearest EuroKids centre.