Exploring the Ocean- Activities, Experiments, and Crafts for Kids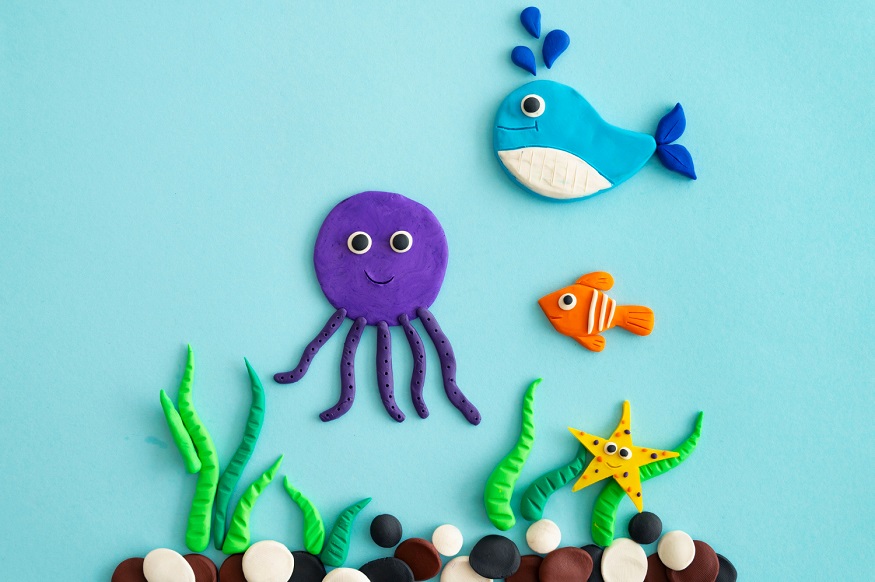 Children love to place those shells they have collected from the beach, over their ears. Listening to the enchanting sound of the ocean that is miles away, gives them an ethereal feeling.
Learning about the ocean is something all children can joyfully indulge in from the recesses of their homes. In this article we have specially curated a list of Ocean Activities and Experiments for Preschoolers, that will help them forge a strong connection with the sea.
All without having to visit it at all!
Are you ready to make that deep dive, and explore all things that make for Ocean-related Kiddie Fun? Let's take the plunge!
Ocean Activities for Preschoolers
Your children will have a blast, with these fun Ocean-themed Activities.
Ocean Theme Sensory Bin
It's fun playing with sand. Add shells in the mix, and it's even more fun!
Things you will need
Sand
Seashells in various sizes and shapes
To do
Pour a few inches of sand (regular or kinetic) into a sensory bin.
Add some seashells on top of the sand, along with some plastic spoons.
Let your child play. Invite some of their friends for even more Sensory Fun.
Ocean Science Centre
Creating their own Ocean Science Centre? How cool!
Things you will need
A bowl of tiny seashells
A wooden tray
A magnifying glass
Picture books about seashells and the ocean
To do
Place a bowl of seashells on a wooden tray, along with some magnifying glasses.
Around the tray, keep some seashell books on display
Let your little one invite their friends to come see their Ocean Science Centre!
Reading an Ocean Book
Whether it's picture books or chapter books, both have an uncanny way of transporting children to faraway places. Like the ocean!
Some great Ocean Books
The Mermaid by Jan Brett. This delightful book is the underwater version of Goldilocks and the Three Bears, starring a Japanese mermaid called Kiniro.
Dory Story by Jerry Pallotta. A great bathtub adventure that actually makes for a delightful introduction to the Ocean Food Web.
Whale in a Fishbowl by Troy Howell. Wednesday the Whale longs for the vast expanse of the ocean, that she can glimpse from the bowl she is confined in.
Ocean Experiments for Kids
Learning about the ocean is even more delightful, with these cool Ocean Experiments for Kids.
Learning how Currents are formed
Any child who has watched Finding Nemo, has heard of Ocean Currents.
Things you will need
Cold Water
Ice Cubes
Boiling water
Red and Blue Food Colouring
Large Baking Dish
To do
Add 1-2 cups of ice to cold water in a dish, and stir for a few minutes to let the ice melt.
While the ice is melting, boil 4 cups of water.
Add red food colouring to the boiled water.
When both the sets of water and dye are ready, gently pour the boiling water in a corner of the dish with cold water.
Watch the water currents form before your eyes.
Ocean Waves in a Bottle
Why go to the ocean, when you can bring the Ocean home?
Things you will need
Plastic Water Bottle
Vegetable Oil
Water
Blue Food Colouring
To Do
Fill the bottle ½ way with water, adding as much blue food colouring as desired.
Fill the rest of the container with vegetable oil, and cap the bottle tightly.
To make a wave, tilt and gently shake your 'Ocean in a Bottle'.
Salt Water Density Experiment
This experiment helps kids see how many objects that sink in fresh water, will float in salt water.
Things you will need
Small grapes
Several clear cups filled with water
Salt
Sugar
Baking Soda
To Do
Dissolve 2 tbsp. salt in one cup, 2 tbsp. sugar in another cup, and 2 tbsp. baking soda in the third cup. The fourth cup, that is the controlled variable, must have plain, fresh water.
Let your child wonder about what might happen, when they drop the grapes in each cup. If they sink or float.
Drop the grapes in each cup to see if they guessed correctly!
Ocean Crafts for Kids
The following Ocean Crafts for Kids, do not take a ton of time, supplies or even craftiness!
Ocean In an Egg Carton
Creating the ocean where eggs were once kept? Yes, it is possible!
Things you will need
Egg carton
A range of blue paints and glitter glues
Small shells and pebbles
Coloured cards
Tissue Paper
Plastic Gems
Coloured Foam Sheets
Glue and Scissors
To Do
Paint the insides of the egg carton.
Spread lots of glitter glue, to make it sparkle.
Cut out little fish from those coloured foam sheets. Also cut out some seaweed from green foam.
Glue the shell and pebbles, along with those fishes and that seaweed, to the inside of the carton.
Seahorse Motor Craft
Seahorses never fail to stimulate a sense of wonder in children!
Things you will need
Liquid Watercolour
Pipettes
Coffee Filters
Black Construction Paper
To Do
Flatten the Coffee Filter and place it on a tray.
Use the pipettes filled with liquid watercolour, to drop paint onto the coffee filter.
After the filter has dried, add a sea-horse cutout. Glue it down, then hang the completed work of art in a window.
Octopus Craft
If there's any sea creature apart from that seahorse, that inspires a sense of awe in little children, it's an octopus!
Things you will need
6-inch paper plates
Thin Kwik Stix
8 pipe cleaners
Single Hole Punch
Pony Beads
Peel and Stick Googly Eyes
To Do
Use the small Kwik Stix to colour the plate.
Add Googly Eyes.
Punch 8 holes around the edges for tentacles.
Twist a pipe cleaner through each hole punch.
Add pony beads.
At EuroKids, it is our belief that Ocean Experiments provide hands-on learning opportunities for children. From categorizing shells commonly found on the earth's beaches, to experimenting with water in a home lab, these activities can help broaden your child's perspective of the magnificent undersea world.