Essential reminders for sending kids to school on rainy days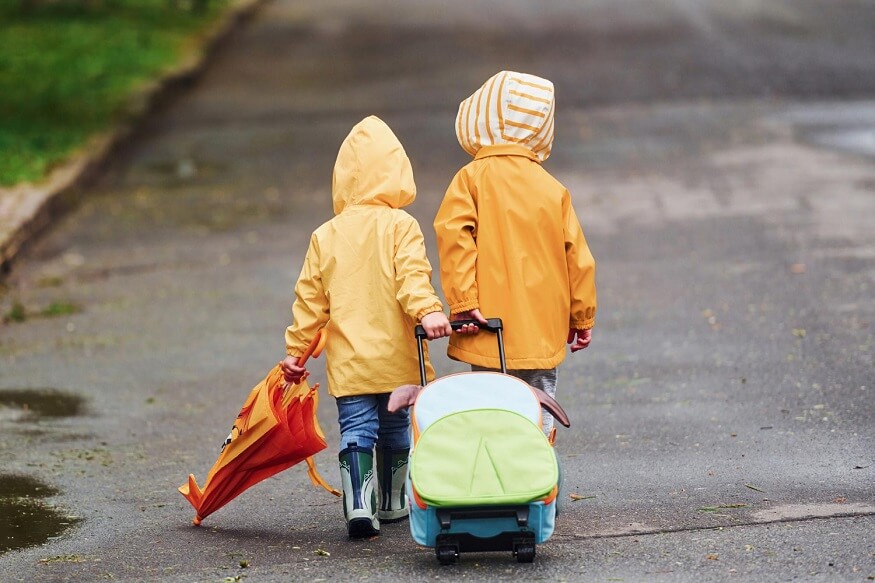 In India, monsoon is way more than the six-letter word 'season' can hold within itself.
Yes, of course it is an emotion. That goes without saying. After having spawned countless iconic movie scenes and epic songs, it is bound to be an emotion.
But it is more than that. It is an experience. An experience that, when it comes to daily-life things, might not be as romantic as it seems. Not always at least. Especially for kids who have to brave their way through the rain and find their way to school.
The thing about rainy days then is that they can seem like an absolute task to take on! Both you and your kids have to make extra preparation to take this season head-on and ensure it goes incidence-free. Though schools will generally provide you with a list of instructions that can help your kids navigate their way through the monsoon, there are certain precautions you can take as well.
Here are essential monsoon reminders to make sure your kids get to school safely on rainy days!
Get your kids a strong, sturdy umbrella

As soon as you see the first sign of rain mantle the horizon, get the old kiddie umbrella out and make it a part of your child's school bag. If you do not have one, now might be a good time to buy it. Make sure you get an umbrella that is strong and is capable of withstanding the frequent gusts of winds so it does not fly easily. That said, add a little bit of fun to your kid's umbrella by getting one in their favourite colour or featuring their favourite cartoon. As long as it's in a size that suits them, you are all set!

Also get a raincoat

What is important to know about rainy days is that often an umbrella might not be enough. Umbrellas are good for light showers, but to keep your kids protected from a heavy downpour, a raincoat is a must. Invest in a raincoat that is a size or two larger than your kid's current size. Since children grow rapidly, getting a size larger will prevent you from buying a raincoat each season. If it is cold where you live, consider getting a raincoat with lining.

Make sure they have the right footwear

Of the rainy season things we use, the right footwear is an absolute must for your school-going kids. During monsoons, roads can get slippery and muddy. Not to mention the puddles and the occasional floods. All of these can be an injury hazard for your kids. The easiest way to keep them safe is to get gum boots. You can get them in the same colour as your kid's raincoat. They will love that! Plus, it will keep their feet warm and dry.

Put a sanitiser in their bags

When kids are at home, it is much easier to make them wash their hands before they sit down to eat or come back home from a rainy day. However, ensuring the same at school can be very difficult. Since monsoon is the season for breeding germs, it is crucial your kids keep their hands clean before eating. Having a sanitiser in their bags can make it easier for them to quickly clean their hands after playtime during recess.

Throw in a quick-dry towel too

Despite your best efforts to prevent your kids from getting drenched, sometimes the unavoidable can happen. For those instances, adding a towel in their backpack is a must. They can use it to quickly dry themselves off in case they get wet. On your part, just try to make certain the towel you give them is both highly absorbent and quick to dry so they can keep it back in their bag without damaging their books. It is an easy rainy season precaution to take.

Invest in a waterproof backpack

Another rainy season precaution you must take is ensuring your kids books and copies do not get wet during the daily school commute. While you can definitely pack each day's books in a plastic bag, getting a waterproof backpack can add a further layer of protection, thus keeping your kid's school supplies safe from the rigours of rain.

Give them wet wipes for quick stain removals

Though not strictly a rainy season thing we use, giving wet wipes to your kids can help them quickly clean any splotches or stains they might get on their shoes, uniform or backpack. Due to the muck all around, preventing muddy stains during monsoons is next to impossible. Wet wipes can serve as a quick fix, which kids can easily dispose of in the garbage once they are done using it.

Make them carry an extra change of clothes

Though not the best solution for every single school day, carrying a spare change of clothes on days it rains heavily is a good idea. Kids can easily fall sick if they have to spend the day in wet uniforms, shoes and socks. However, a bout of sickness can be just as easily avoided with an extra change of clothes. An easy way to keep kids dry.

Pack in a healthy lunch

Treat this as a health tip for the rainy season. It is wise to avoid street food during monsoon as it can get easily contaminated and carry a lot of germs and cause sickness. That is why, make sure you pack a healthy lunch for your kids everyday. A nutrient-rich lunch can strengthen their immunity and keep monsoon-related illnesses at bay.
Following the above health tips for the rainy season can prevent rain-related mishaps and illnesses. At EuroKids, we try our best to ensure our students do not have to suffer the rigours of rain. We make it a point to help parents through the season by taking all the necessary seasonal precautions. You can always visit us to know more.