Essential Day Care Items for Toddlers- A Must-Have Checklist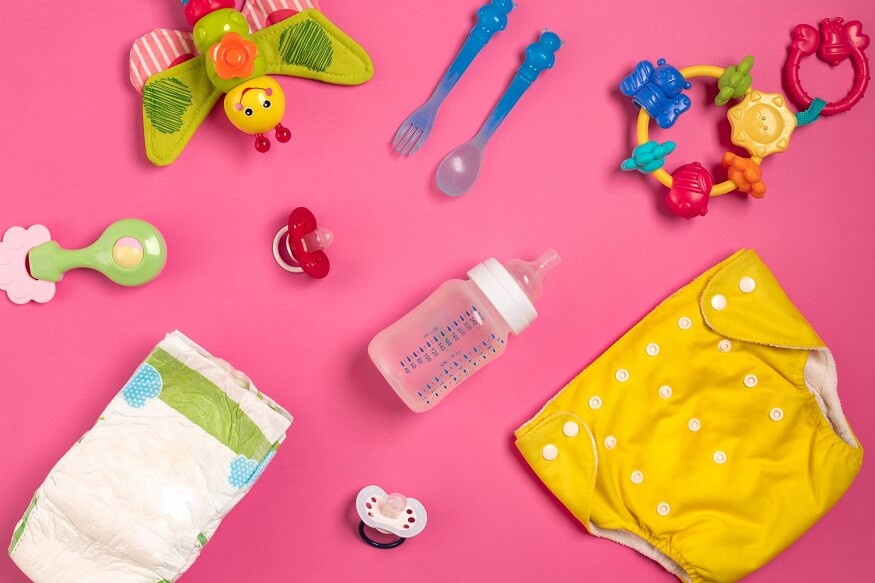 Essential Items to Pack for Your Child's Daycare
The moment you have been dreading has finally arrived. Your child is on the verge of setting off to their first day at daycare. Nothing could have quite prepared you for this moment. Well, not quite!
If you have packed that toddler daycare bag well in advance, with all the Toddler Essentials your little one will most certainly need when they find themselves in the confines of daycare, it will go a long way in relieving that undue stress.
Are you ready to explore that Daycare Checklist for Toddlers, with a view to understanding what to pack for your toddler for daycare? Let's dive in and explore all those Daycare Must Haves!
The Must Have Checklist of Essential Day Care Items for Toddlers
Here's a look at all the toddler essentials you will need, to ensure that 'Daycare Transition' is as smooth as can possibly be.
#1. Milk and Formula
When packing that daycare bag for your toddler, you don't want to miss out on the one thing they need more than anything else – food!
Tip: Whether you're a breastfeeding or formula parent, having that milk pre-measured will make it easier on your caregiver. If you're breastfeeding, you want to send across pre-measured bags of breastmilk. Make use of formula storage containers in the case of formula feeding.
#2. A Rain Jacket
Sunny days are great, but what about days when it rains? That daycare checklist for toddlers must embrace all-weather play, so a good rain jacket becomes a must.
Note: Ensure that you get a good rain/windproof jacket that is highly 'durable'.
#3. Diapers for Daycare
There's nothing that can stand in the way of poop – except, of course, diapers! When looking for what to pack for daycare for your toddler, you must ensure that those diapers find their place.
Note: If you use cloth diapers at home, communicate with your daycare about whether the use of cloth diapers is doable in their setting. Be prepared to use disposable diapers. These are better for the environment and far easier on your child's skin, too.
Tip: You might want to keep an extra package of diapers in stock at your child's daycare.
#4. A good lunchbox
You want to get your toddler the best lunchbox for daycare. Ask yourself this question: 'Do I wish to send 'hot' or 'cold' meals for my child?' In accordance, you might want to get an insulated lunchbox, to keep everything at an ideal temperature throughout the day. Further, you want to choose one that's light enough and can easily fit into a backpack.
Note: You want to get them a lunchbox with room enough for multiple meals and snacks, as well as milk.
#5. Labels
You really want to slap labels on every single item that belongs to your child. After all, you don't want them getting mixed up with another kid's items! A good idea would be using waterproof labels that you can paste on your little one's bag, jacket and even their shoes.
Note: If your child has food allergies, you want to make sure that you order those allergy labels, too.
#6. A Toddler-Sized Backpack
The last thing you want is for your little one to be lugging around a bag that is completely oversized for them. That's why choosing a 'toddler-sized' backpack is a must. You need to choose one that's compact enough for your child to carry, but roomy enough to hold all the essentials.
Note: You want to ensure that the backpack you choose is safe for your little one. There are several safety features that you need to look out for here – like two wide shoulder straps, a padded back and a chest strap.
Tip: Things like stains and spills are inevitable, so you want to get a backpack that is machine-washable.
#7. Spare Clothes
Needless to say, this one makes for one of the prime essentials in the bags of all children who go to daycare. You never know when they are going to get food or even Arts Supplies on their clothes, and you want to be duly prepared for the same. In accordance, you might wish to pack at least 2 sets of spare clothes in your child's bag.
Note: You want to check on the size and seasonality of those clothes every 2-3 months, to prevent things like them being stuck in smaller clothes.
#8. A Comfortable Toddler Pillow for Naptime
While choosing the softest pillow possible might be a tempting idea, it's really best to choose one that's flat and firm. This will reduce the suffocation risks posed to your little ones.
Note: You want to look for pillows that are made from materials that resist allergens, like cotton or memory foam. This is all the more essential if your child has allergies or sensitive skin.
#9. A Top-Quality Sun Hat
We've prepared them for rainy days. How about days when the sun is especially harsh? When looking for that sun hat, though, you might wish to choose one that is more 'effective', rather than one that's the most 'fashionable'.
Tip: You want to choose hats made from natural fibers like cotton and linen that breathe well, and help prevent toddlers from overheating when they spend inordinate amounts of time outdoors.
#10. Indoor Shoes
A lot of daycares require that your child bring an extra set of shoes to wear indoors, so that dirt and mud won't be dragged onto floors where kids crawl and play.
Note: No matter what shoes you choose, you want to make sure that they have no-slip grips at the bottom.
We at EuroKids believe that one cannot be too prepared where it comes to packing their child's daycare bag. That is why we recommend that you pack 'two' bags, not one. The first, with 'extras', will stay at daycare with things like diapers, wipes and beddings, and can be replenished as and when needed. The other will go and come back with your baby every day.