Essential Books for One-Year-Olds and Two-Year-Olds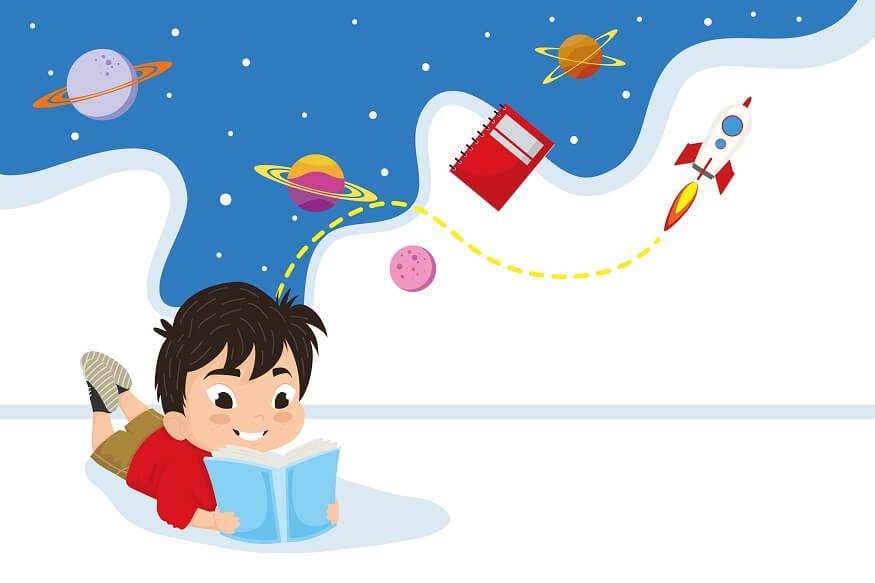 Discover the Best Books for Toddlers
There is nothing as powerful as the world of imagination. Books are a portal into that very world, where anything can happen, anytime.
Books for toddlers are even more powerful than you might have imagined. They are laced with lessons that consciously or subconsciously find their way into the impressionable minds of children as little as 1- or 2- years old.
Introducing toddlers to good reading material provides a stepping stone for them where it comes to cultivating a lifelong love for reading.
Are you ready to walk down the aisles of the virtual library we have curated for you, stacked with the best books for your little ones?
Essential Books for 1- and 2- Year Olds
The best books are those that aren't merely academic, but serve to teach things like patience, integrity and kindness. Here's a look at our favourites, that we highly recommend for your little one's reading pleasure.
#1. Little Blue Truck Board Book by Alice Schertle
One of the best books for one-year-olds, this one.
About: A little pick-up truck, Blue, gets stuck on a muddy country road when pushing a dump truck out of the muck. Luckily, the farm animal friends he has made along the way are willing to do whatever it takes to get their palm out of the mess he is in.
Highlights: Filled with delightful truck sounds and animal noises.
Great for: Serving as a tribute to the power of friendship and a lesson in the benefits of being kind to others.
#2. Busy Day: Athlete by Dan Green
If you're looking for interactive books for toddlers, you don't want to give this one a miss.
About: Your little ones will love following along with the little athlete who is going for 'gold', from dressing up for the day to doing the long jump.
Highlights: It's an interactive book in the 'lift-the-flap' format, that makes it all the more exciting.
Great for: Sharpening fine motor skills and hand-eye coordination.
#3. Can you make a Happy Face? By Janice Behrens
A book that deals perfectly with emotions must certainly make for one of the must-read books for toddlers!
About: This one's a simple board book with photographs of infants and toddlers showing different emotions.
Highlights: The engaging photographs and illustrations will delight your toddler, while at the same time fostering in them a love of reading.
Great for: Exploring all kinds of emotions and feelings.
#4. Goodnight Moon by Margaret Wise Brown
Looking for books for toddlers to read to them at bedtime? Try this one!
About: The story starts in the Great Green Room. The toddler is introduced to all the interesting items in the room, before saying good night to all of them.
Highlights: One of the most peaceful and calming books you will ever find.
Great for: Lulling your kids into Dreamland.
#5. My First Book of Colors by Scholastic
What better way to keep children's minds busy, than by having them immersed in the wonderful world of colours? Certainly one of the most engaging books for toddlers, this one!
About: Each page in this wonderful book shows a particular colour and several items that are of that particular colour.
Highlights: This cool book has colour-changing windows that your toddler will absolutely adore.
Great for: Teaching Colours and even New Vocabulary, to toddlers.
#6. Mama Mama by Jean Marzollo
Books for one-year-olds are great when they usher in a sense of comfort, like this one does.
About: In this wonderful flip board book, animal babies sing songs of love to their parents.
Highlights: When you flip the book over, you are introduced to the reassuring words 'Papa Papa'. After all, you cannot leave the 'daddies' out!
Great for: Providing an ultimate representation of the love shared between a child and a mother, through the sweet words and calming pictures.
#7. Smiley Eyes, Smiley Faces by Dawn McNiff and Zoe Waring
One of the best interactive books for toddlers, that touches upon a theme of great relevance.
About: In this fun book, children can lift the masks of various people like doctors and shop assistants, to reveal smiley faces beneath.
Highlights: At the end of the book, children will delight in lifting their own masks, in the surprise mirrored finale.
Great for: Showing them that just because you cannot see a person's face behind the mask they wear, it does not mean they are not smiling.
#8. Never Touch a Monster! By Make Believe Ideas Ltd.
Each book in this fun series of 'touch and feel' books, makes for one of the must-read books for toddlers.
About: Children will love reading the silly rhymes in this book that speak of the dangers of touching monsters.
Highlights: The innovative silicone touch-and-feel features on every spread provide even greater delight to children who excitedly do what they were told not to – touch those monsters!
Great for: Sensory Learning
#9. Magic Windows: Weather by Libby Burns
This one makes for the perfect book for the curious toddler.
About: This one teaches little children things like 'Why puddles appear' and 'How rainbows are made.'
Highlights: Children can interact and play with the weather!
Great for: Teaching kids all things weather-related.
#10. From Head to Toe by Eric Carle
A colourful and energetic book that deserves its place in our toddler library.
About: In this wonderful book, the animals of 'From Head to Toe' invite young readers to copy their antics as they play.
Highlights: This book will have young readers clapping their hands, stomping their feet and wiggling their toes, like their favourite animals.
Great for: Teaching the importance of exercising and taking on a new challenge.
At EuroKids, Storytelling forms an important component of our curriculum. We believe that reading not only helps toddlers learn about sounds, words and language, but also develops their social skills. We highly recommend you try and get them to read daily. Even reading a little a day can go a long way towards that vital early development.