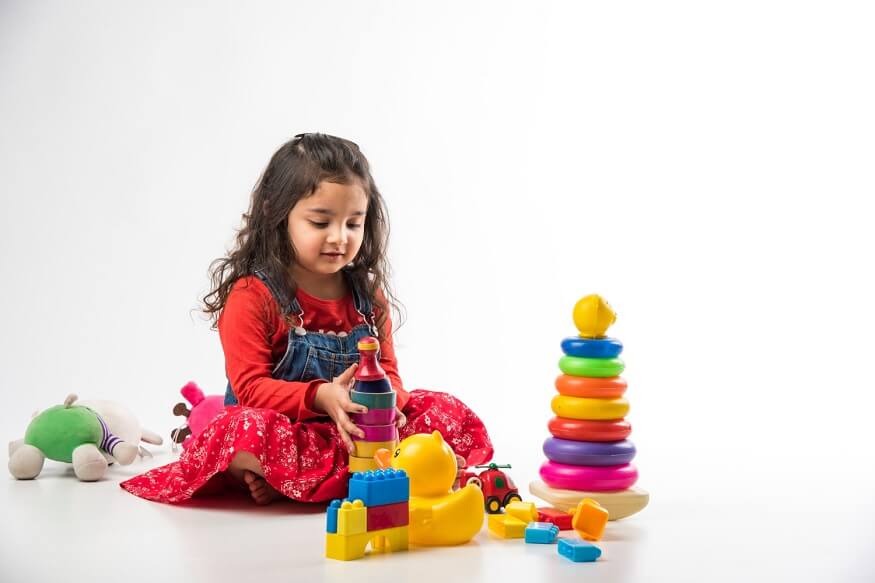 Considered a classic toy by many experts out there, Building Blocks for kids are amongst the best toys you could provide your child with. It is through playing with these that children discover vital spatial skills like 'On top of' and 'Under. Learning to problem-solve, they come to see how things 'fit together'.
As they manipulate blocks and build structures, kids get engrossed, thus making this one of the best possible alternatives to those ever-daunting screen times.
The Right Age to Introduce Toddlers to Building Blocks
As a general rule, most building blocks are suitable for toddlers aged 3 years and above. However, it is up to parents to be a keen assessor of their kids' development, when introducing building blocks in their vast array of playthings. Note: Make sure you supervise your child when they play with Building Blocks, to ensure their safety.
The Benefits of Building Blocks for Toddlers
Building blocks have far more benefits than meets the eye. Here's a look at the most pertinent.
Increased attention span. When children are in the process of creating something like 'the tallest tower', their attention spans are pushed to the hilt.
Developing Motor Skills. Progressing through the various stages of block play, children develop their fine gross and motor skills.
Early Math and Number Concepts. When children play with blocks, they learn to differentiate between 'one' and 'two' objects. Blocks provide endless ways for them to learn about values and numbers.
Problem-Solving. Playing with blocks is really nothing short of being problem-solving at its best. Before they even start, they need to plan what they are going to create.
Spatial Perception. In the beginning, children start out by merely fiddling with blocks, before learning to stack them. In time they discover how to make bridges, using two blocks to hold the third block. This throws light on their understanding of spatial relationships.
Science Concepts. As they explore with blocks, children learn about Science concepts like Gravity, Weight and Stability.
The Best Building Blocks for Toddlers
When selecting building blocks for your little ones, you want to make sure you keep their age considerations well in mind, before zoning in on the perfect choice. You also want them to be durable, so they last longer.
Ready to take a look at the best building block choices for your youngster? Here's a list of the building blocks for toddlers we believe to be absolute value for money.
Lego Duplo Construction Bulldozer
If your child has a fascination for large trucks or simply vehicles in general, this one is worth a shot. The very best toys for child development incorporate the element of fun, like this wonderful game does.
Highlights: Children can role-play creative construction site stories with this cool game. Included are a cute mobile bulldozer with a lift-up scoop that is operated by hand, a boulder that splits open, a sign warning of incoming traffic and a construction worker figure wearing a high-visibility vest.
Recommended for: Ages 2 and upwards
Mega Bloks
One of the best building blocks for toddlers, these encourage children to hone their creative and motor skills.
Highlights: Kids can build anything from simple towers to complex structures. As they get older, they can combine sets to make bigger and more intricate designs. Bonus: Mega Bloks are compatible with other Mega Bloks Sets, allowing you to expand your collection.
Recommended for: Ages 1 to 5
Toyshine Wooden Angles Geometric Blocks Building Stacker Shape
Building blocks for toddlers are great when they push the capacity of imagination of little children well and beyond.
Highlights: This set of stacking blocks contains 16 square pieces that are detachable. What's truly great about this pegged stacking toy, is that it hones color recognition skills and even the acknowledgment of shapes. It's especially fun for little children, who love holding blocks, stacking and sorting them and simply playing with them in unlimited ways. Great for sharpening critical thinking skills.
Recommended for: Ages 1+
Tegu Blocks
When looking for toys for child development, look no further than Magnetic Blocks!
Highlights: Made of sustainably-sourced wood, these unique magnetic blocks have magnets embedded inside them. When playing with them, children let their imaginations run wild and create structures that defy gravity. Bonus: These come in a variety of colours and shapes, and can be combined with other Tegu sets, too, for even greater building possibilities.
Recommended for: Ages 1+
Mega Bloks 80-piece Big Building Bag
Yet another cool set of blocks from the Mega Bloks Stable, these oversized blocks are sure to delight your little ones.
Highlights: If you're looking for blocks that fit together easily, this one's a great choice. It's perfectly sized for toddlers who will enjoy building and then knocking down their precious creations. Bonus: The set comes with its own storage bag, making for an easy cleanup process post play.
Recommended for: Ages 1+
Melissa & Doug Wooden Blocks
Are you a parent that prefers the classic, wooden type of blocks? These certainly make for the perfect 'fit'!
Highlights: Coming in a variety of shapes and sizes, your toddler can use these to create just about anything they like. These blocks, like many other great ones, are perfect for developing spatial awareness and problem-solving skills.
Recommended for: Ages 2 to 8
Lego Classic Large Creative Brick Blocks
Anything from the house of Lego is a good choice. As is this wonderful set of building blocks!
Highlights: Armed with nearly 800 bricks that fit into the accompanying storage box, this colorful set includes base plates, tires, doors and a plethora of colourful bricks of all sizes. A great choice for kids who are starting out playing with blocks.
Recommended for: Ages 4+
At EuroKids, 'Playing with Building Blocks' is one of the activities we lay a good deal of emphasis on. We cannot recommend it highly enough, as one of the activities that go a long way in improving the confidence and self-esteem of children, apart from problem-solving, language and literacy abilities.