Best places to visit in Chennai with your kids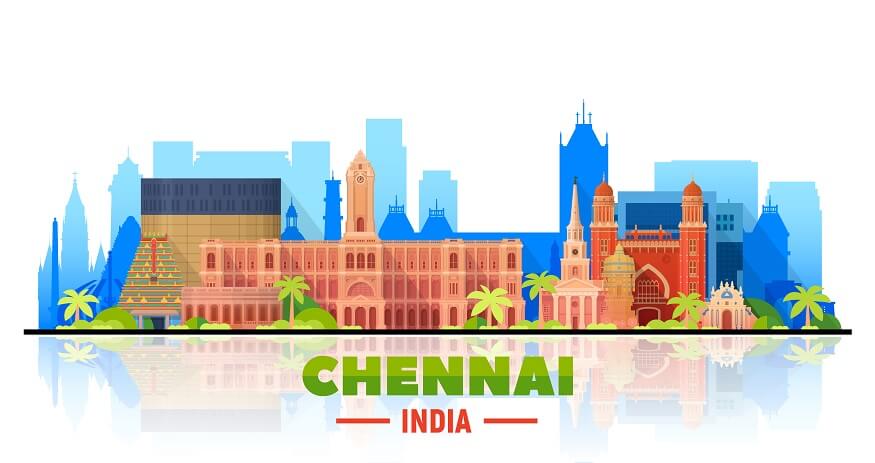 Picture this – it's a balmy Sunday morning in Chennai. The aroma of filter coffee wafts from homes, mingling with the fragrance of blooming jasmine. Your excited kids are up early, backpacks ready, impatiently waiting to explore the city they call home. Here is a list of the top family-friendly attractions in Chennai if this situation sounds similar to yours.
We've compiled a list of 25 top-notch destinations that will engage, entertain, and educate your kids while giving them a whirlwind tour of Chennai's charm. These handpicked destinations will transform an ordinary day into an extraordinary adventure, from uncovering ancient secrets at the historic Fort St. George to engaging in a snowball fight at the Chennai Snow Kingdom. So, here goes, our hand-picked list of the best places to visit in Chennai for children.
Guindy National Park – This park is one of the few located within a city in India.Since it is home to such a wide variety of animals and plants, taking your children there will be both informative and fun.
Marina Beach – As the second longest beach in the world, Marina Beach provides a beautiful, sprawling playground for kids to run, build sandcastles, and fly kites.
Arignar Anna Zoological Park – One of the major tourist places in Chennai, the zoological park is a haven for wildlife lovers. With over 170 species of animals, children can marvel at the wonders of nature.
Science City – For the aspiring scientists and inventors, this is a top choice among the entertainment places in Chennai. With interactive exhibits and planetarium shows, Science City cultivates a love for learning.
Birla Planetarium – The modern planetarium gives kids the opportunity to experience the mystery and magic of space, making it one of the most unique things to do in Chennai.
Vandalur Reserve Forest – Perfect for adventure-seeking kids, this reserve forest is a thrilling destination for spotting wildlife and experiencing the tranquillity of nature.
DakshinaChitra – This museum offers a brilliant portrayal of South Indian culture. Your kids will enjoy interactive exhibits, workshops, and the chance to see traditional homes and artisans at work.
Madras Crocodile Bank – Home to one of the largest collections of crocodiles in India, this bank doubles as a herpetology research station. It seamlessly combines learning and enjoyment.
Chennai Rail Museum – Train lovers will be thrilled with the range of vintage locomotives on display, plus a toy train ride!
Semmozhi Poonga – This botanical garden offers 20 acres of lush greenery, beautiful themed gardens, and serene ponds—a natural oasis in the heart of Chennai.
MGM Dizzee World – This amusement park is packed with exciting rides and attractions that cater to all age groups, making it a fun-filled outing for the entire family.
Chennai Snake Park – Let your kids get up close with various species of snakes, lizards, turtles, and crocodiles. A sure shot way to peak their curiosity!
Elliot's Beach – Also known as 'Bessie', this is a calmer alternative to Marina Beach and offers plenty of space for kids to play.
Click Art Museum – A 3D interactive museum that's sure to be a hit among kids. They'll love the creative, mind-bending displays.
ISKCON Chennai – Visit for a peaceful spiritual experience and to educate your children about the Hare Krishna movement and Indian culture.
Express Avenue Mall – This mall has a range of entertainment options including a cinema, gaming arcade, and kid's play area.Looking for a place where you can shop, eat, and have fun all in one place? Here it is, one of the top entertainment places in Chennai.
Ripon Building – For a slice of Chennai's colonial history, visit the grand, white Ripon Building. Its architecture and the surrounding park provide a perfect backdrop for a family picnic.
Kapaleeshwarar Temple – Introduce your kids to spiritual heritage and stunning Dravidian architecture at this ancient temple.
Cholamandal Artists' Village – Home to one of India's largest artist communities, here, children can watch artists at work and appreciate various forms of art.
Fort St. George – A historic landmark that houses a museum filled with artefacts, it offers children a glimpse into Chennai's colonial past.
MGR Film City – This sprawling complex is a treat for kids who love cinema. A chance to see the behind-the-scenes action of the Tamil film industry!
Valluvar Kottam – A stunning monument dedicated to the classical Tamil poet, Valluvar. It's a wonderful place to inspire a love for literature in your children.
Chennai Snow Kingdom – One of the newest tourist places in Chennai, your kids will enjoy the rare chance to play in the snow right in the heart of tropical Chennai!
Kalakshetra Foundation – Immerse your children in the classical arts of India, with performances and workshops in dance, music, and the visual arts.
Queensland Amusement Park – With thrilling rides and attractions, this park ensures an action-packed day of joy and excitement for your kids.
Chennai is a beloved city for a reason, with its unique blend of modernism and heritage, vibrant cityscapes, and peaceful beaches. We sincerely hope that you liked our list of the best places to visit in Chennai for Children. This guide will help you find some of the best things to do in Chennai. As you embark on these adventures, your family will collect a treasure trove of memories, weaving stories that your children will fondly recollect for years to come.
In the course of these explorations, if your little ones develop an interest in learning and growth beyond their regular curriculum, EuroKids is an excellent option to consider. EuroKids is renowned for its 'Child-First' ideology, blending learning with interactive fun. Visit our website to learn more about us!