Benefits of Hobbies for Kids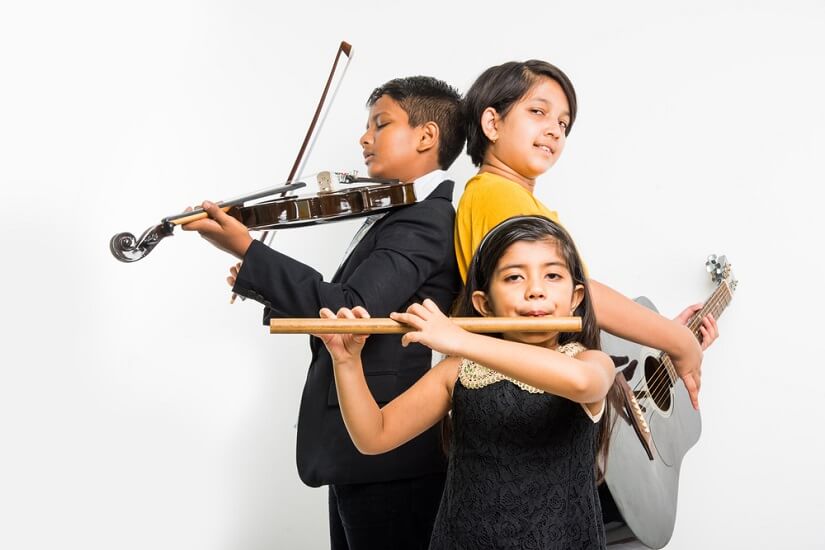 The first thing that comes to mind when the subject of 'hobbies' is broached, is that they are nothing but activities to waste your time.
That statement could not be further from the truth.
Hobbies allow children to 'own' moments, and construct something meaningful out of them. The benefits might not be immediate, but the time spent in indulging in their favourite activity will reap great benefits in their future years to come.
We must certainly encourage our kids in pursuing the activities they are interested in. There are plenty of benefits of hobbies for children. Here is a look at those that made it to the top of the list.
Coping effectively with Stress
Hobbies for kids help them deal effectively with stress that plagues their bodies and minds. Ever thought that the hustle and bustle of life only got to adults? Think again. Children, too, are exposed to the harsh vagaries of life and when they pursue something they love, like singing, it provides the perfect getaway.
Widens their social circle
The really great thing about good hobbies for children is, it helps them make friends easily with other children. As they grow older, they come to see that the participation in hobbies becomes ever more reliant on other kids' participation. Learning to work in tandem with other children, they widen their peer circle.
They help nurture creativity
One of the really great hobbies for kids is to help boost their creative powers. When a child is immersed in an activity like painting or writing, their minds are expanding to think 'outside the box'. As they move on in their pursuit of creating wonderful works of art, they are inspired to create something that allows their own individuality to shine.
Gives them a sense of meaning
When children pursue their hobbies with an avid sense of interest, they end up deriving a deep sense of meaning through the process. A meaning that shines through not merely from having something to 'fill the time', but rather, from indulging in something purposeful. All in all, hobbies allow kids to lead a more complete existence.
Contribute to their physical well-being
Hobbies for children that require them to indulge in physical activity, help contribute to their physical development. Even more so in the case of activities in the outdoors where they thoroughly engage their muscles as well as their minds.
Better school performance
If you are thinking that kids are idling away their time when they are pursuing their hobbies, you are wrong. The great thing about good hobbies for kids is, they improve the powers of concentration in children. This in turn helps them be more collaborative with their teachers and classmates, and drives their academic performance, too.
Expanding their knowledge
Hobbies for kids go a long way in expanding their knowledge base as well as honing their reasoning abilities. For example, if gardening is a child's hobby, they will have to learn all about seeds and the kind of soil in which they grow. This helps them become more knowledgeable about the world around them.
Helps them sleep better
When children indulge in hobbies, they derive a great sense of contentment. Being more relaxed, they are able to sleep better than kids who don't have all that much free time. Needless to say, kids that sleep better are more relaxed, happy and ever eager to take on the day's challenges.
Effective Time Management
Children who indulge in hobbies of their choosing learn to manage their time effectively, juggling between their regular activities and those that catch their fancy. When they do this, it helps them become more organized and well-shielded from the numerous stresses that the day brings.
Lesser risk of developing psychological problems
It's not merely adults that are prone to falling prey to anxiety and depression. Even children who are very small run the risk of developing these severe psychological disorders. The great thing about hobbies is, they severely reduce that risk and instead, aid in the holistic development of happy, well-rounded children.
Hobby Ideas for Kids
Let's take a look at some great hobby ideas for kids, who might not necessarily know where their true interests lie.
This ancient art of folding paper is a great way to get small children engaged. Start with simple shapes of animals and other things.


Painting. Time for Junior Picasso to take out his easel. There are different varieties of paints kids can choose from, ranging from acrylic to watercolours. A good time to educate them about famous artists and the masterpieces they created, like 'The Mona Lisa'.


Stamp Collecting. Believe it or not, but there are many 'adults' who collect stamps, too! Your child might want to arrange stamps according to particular themes like sports or countries. Later on, they can even learn about watermarking on stamps and join a stamp collectors' club.


Coin Collecting. Just like stamp collecting, this one's a popular hobby for kids. Your child can grow their coin collection with coins from friends and families that visit different countries. This hobby provides a great way for children to learn about the history and culture of different countries.


Sea Shells. The seashells your child collects from different holidays taken by your family, make for a memorable collection.


Organic farming. Growing crops and fruits in your garden without the use of synthetic fertilisers and pesticides? A truly great idea!


Recycling Paper. Learning the art of recycling paper can help kids make an invaluable contribution to the environment.


Dancing. Let the little ballerina in your child come alive. Besides ballet, there's plenty of thoroughly engaging dance forms to try, like jazz and salsa.
We at EuroKids know the invaluable contributions hobbies make towards the development of children. To that effect, we have curated a vast plethora of activities of which at least one will surely pique their interest enough to be pursued as a hobby.