Balancing Extracurricular Activities and Schoolwork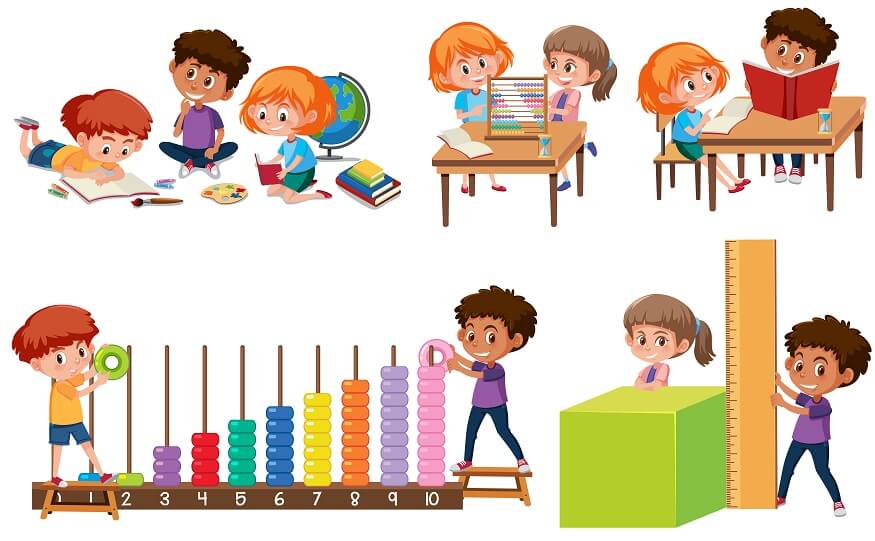 The Education system of India is heavily focused on academics, which leaves little or no time or resources for extracurricular activities for kids. Parents also often stress studies rather than engaging their children in extracurricular activities for kids. This leaves a massive void in a child's mental, social, and physical development – balancing academics is highly ignored.
Learn the importance of teaching and balancing academics and extracurricular activities for kids Also, how time management for kids and academic performance for kids are interrelated.
Why are Extracurricular activities for kids often ignored?
There are several reasons why extracurricular activities for kids could be disregarded:
Lack of knowledge: It's possible that some parents need to be made aware of the advantages of extracurricular activities for kids, balancing academics, time management for kids, and the sound effects they can have on their child'schild's development.
Financial restrictions: Some families might not be comfortable with the cost of participation in extracurricular activities for kids because they are occasionally pricey.
Time restrictions: Parents may believe that their child's burden in school is already too significant and that they need more time to devote to extracurricular activities for kids.
Balancing academics is an art that not many parents can teach their children easily.
Safety worries: Some parents might be reluctant to allow their kids to engage in particular sports or outdoor activities because of safety worries. Extracurricular activities for kids may be a distraction to some parents.
Lack of resources: Schools and communities might need more money or resources to provide a variety of extracurricular activities for kids, which might restrict the alternatives available to kids.
Academic pressure: In some cultures, there could be a strong emphasis on intellectual accomplishment, making extracurricular activities for kids seem less essential or like a diversion.
It is crucial to recognize the benefits of extracurricular activities for kids, balancing academics and time management for kids, and trying to give them participation opportunities. This may entail informing parents of the advantages, offering aid to struggling families, and arguing for more funding for extracurricular activities for kids. Children can explore their hobbies, learn new skills, and enhance their general well-being by having more extracurricular activities available.
Importance of extracurricular activities for kids
Children's growth depends heavily on extracurricular activities. Here are some reasons why children should participate in extracurricular activities:
Develop skills: Children can learn new abilities and skills through extracurricular activities for kids they would not have the chance to do in school. Sports, for instance, can foster teamwork, discipline, and leadership, whereas music courses can stimulate imagination, perseverance, and patience.
Boost confidence: Taking part in extracurricular activities can help kids develop their self-worth and confidence. They may grow to feel pleased with their accomplishments and have a sense of success.
Improve Academic Performance of Kids: Research has found that kids who participate in extracurricular activities typically perform better in school. Kids' academic performance may be aided by these exercises that help with organization, time management, and concentration.
Foster social skills: Extracurricular activities allow kids to meet new people, practice cooperating with others, and grow their social abilities. As a result, they may develop more at ease and self-assured in social settings.
Participating in extracurricular activities can help kids feel less anxious and stressed. These activities give kids a constructive outlet for their emotions and can aid in their relaxation.
Increase interests: Extracurricular activities for kids can introduce kids to new hobbies and interests. They can find new attractions and fall in love with a particular pastime for the rest of their lives.
Time management for kids: Children can learn time management skills through extracurricular activities. They can learn how to successfully prioritize their time and strike a balance between their obligations.
Extracurricular activities for kids can benefit their intellectual, emotional, and physical growth. It's critical to support your child in discovering their hobbies and engaging in activities they enjoy. Children participating in extracurricular activities can gain valuable life skills, increase self-confidence, and form enduring relationships.
How to balance academics and extracurricular activities
For many kids, juggling extracurricular activities and academic obligations can be difficult. The following advice will assist your child in balancing their commitments and managing their time:
Encourage your kid to identify the most critical tasks and to prioritize their commitments. Help them create a timetable that allows time for their extracurricular activities, schoolwork, and studying.
Establish a routine: Create a timetable for your day, including regular study hours and times for extracurricular activities. This can help balance academics with extracurriculars. This can assist your youngster with time management and stress reduction.
Efficiently manage time: Encourage your youngster to order their time by dividing chores into smaller, more manageable portions. This allows them to maintain their academic and extracurricular commitments without being stressed out.
Talk to your coaches and teachers: Promote open dialogue between your child's coaches and teachers. To ensure that your child has enough time for school and extracurricular activities, let them know your child's schedule and collaborate with them.
Make good use of downtime: Encourage your child to study or complete homework during downtime, such as the intervals between courses or while waiting for a practice to begin.
Please encourage your child to develop self-control by telling them to refrain from using social media or watching TV while studying. They can maintain concentration and operate more effectively.
Be adaptable: Accept that there may be occasions when your child's schedule needs to be changed, particularly during hectic seasons like competitions or test periods. Be flexible and prepared to alter as necessary.
Maintaining a healthy balance between extracurriculars and academics is essential. Good time management for kids is needed. While encouraging your child to follow their interests and passions, stress the value of education and reaching academic goals. Your child can acquire the abilities necessary to properly juggle extracurricular activities and schoolwork by cooperating with you and creating a schedule.
Conclusion
It is a common saying, "All work and no play makes Jack a dull boy." The same applies to a young child who is continually engaged in academics without being involved in extracurricular activities for kids. A considerable void is created in their mental, social, and physical development.
At Eurokids, we provide a healthy, active, and friendly atmosphere where your child has an adequate balance between academics and extracurriculars. They can freely explore different extracurriculars as per their interest as we offer various campus activities. Click here to learn more or to visit a Eurokids center for preschool admission for your child.