Baby's 1st Birthday Party Ideas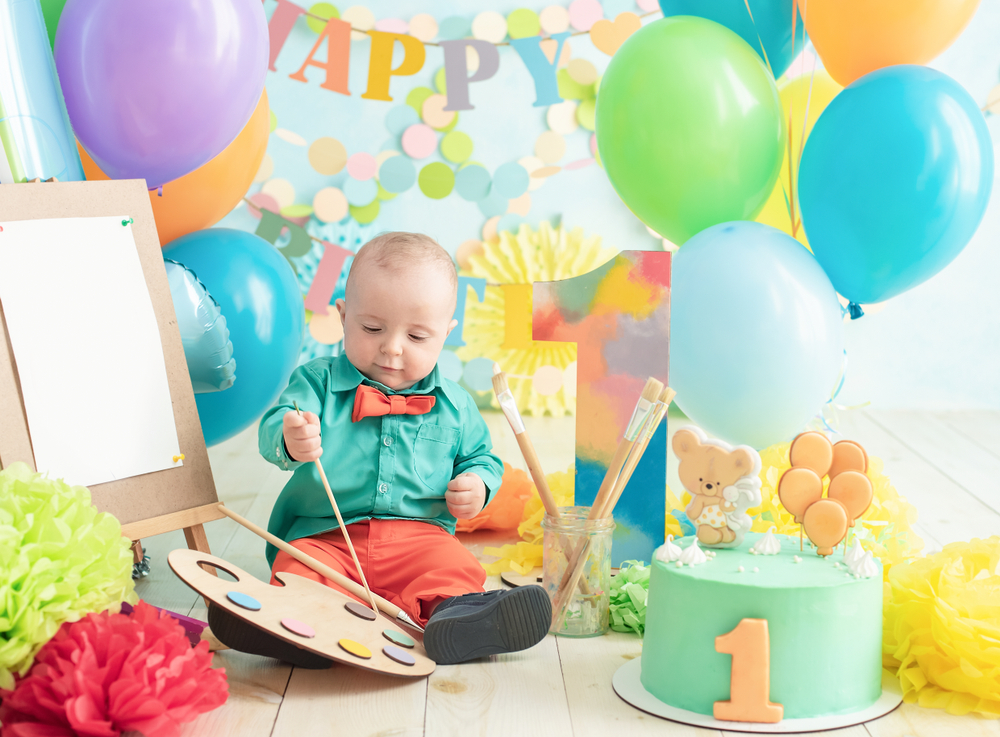 Throw your baby's 1st birthday party in style – be a cool party planner and explore your baby's first birthday ideas with us. Whether about first-birthday party ideas for girls or first-birthday party ideas for boys, we have fantastic baby birthday ideas that will make your party memorable.
It's been a whole year full of a roller coaster ride with your newborn baby. Now is the time for celebrations. Your baby's 1st birthday party will always hold a special place in your heart. Your child might not understand what's happening, but when they grow up and look back at the photographs and videos of their 1st birthday party, they will really adore you a lot for having a super cool baby's first birthday ideas.
Make a Guest List: If it is your first baby, you will have a lot of 1st birthday ideas in mind. But hey, even before exploring a baby's first birthday ideas, it is essential to make a guest list. Yes, making a guest list will help you understand the kind of space, the quantity of food, party favours etc., that you would need for exploring first birthday ideas. It will also help you stay within budget.
Fix The Venue: Now that you have a tentative number of people for your party, it's time to fix a venue accordingly. Based on the number of guests, you can either plan a 1st birthday party at your house, or if you have a garden or terrace, you can explore first birthday ideas there. Just remember to check weather conditions when planning outdoors. You can even rent a restaurant, party hall, or garden if your guest list is big.
Pick A Theme: The first birthday party ideas for boys can be different from the first birthday ideas for girls. However, if you want to keep it gender-neutral, you can also do that. To make your baby's 1st birthday party memorable, decide on an attractive theme – yet easy to be executed. Your baby's first birthday ideas begin with setting up a theme. Based on this, you can do the decorations, decide the food, party favours and even your baby's birthday dress. You can even request your guest to dress up on the theme. And if you want your guests to do that, keep the theme easy and fun, for, e.g. cartoons, fairy tales, sports, colour-based themes, etc.
Send Out Invites: To make your baby's first birthday party a happening one, it is essential that all your guests get the invites in advance, so they can plan their dresses and manage their time accordingly. This will also give you time to explore decorations and other first-birthday ideas. Do not forget to take confirmation from the guest list close to the party date. This way, you can do 1st birthday party shopping efficiently.
Decoration: Once you have your guest list ready, the theme & venue decided, and invites sent, the next thing for a 1st birthday party is exploring the essentials like decorations for the baby's first birthday party ideas. You can have DIY decorations at home based on the theme with lots of ribbons, balloons and cut-outs. Or you can outsource the decorations to a birthday party decorator. You can use a balloon with the number 1 as the central part of your decoration. You can even call some bunny-man, fairy ladies, magicians or other performers at your party. You can even make your guest wear a cartoon face mask to make it more exciting.
The Party Food: No matter what the decoration is or how beautiful the venue is, people always remember and talk about the food they eat at the party. Baby's first birthday ideas are incomplete without an exciting menu that goes well with your baby's 1st birthday party. Plan out the spread according to the time of your party. If it's just snack time, you can have a good range of starters (choose vegetarian or non-vegetarian options according to your and your guest's preference). Plan to keep a multiple dip menu – which will attract many people. If it's just a kids' party, ensure your food does not have a lot of chili and spices. If it's a lunch or dinner, ensure you have a balanced spread between finger foods, elaborated appetizers, spreads, main-course and desserts. If you are serving liquor, ensure there's always an attendee at the bar making drinks for people. Also, ensure there are enough servers. Pre-decide the crockery and serving bowls. You can even use disposals if it's a small gathering.
Birthday Cake: Many people go for cake designs separately for first-birthday party ideas for boys and first-birthday party ideas for girls. We recommend not stereotyping. Your kid is just one and might have their preferences growing up – which might not align with their first birthday. Hence, we suggest you keep it gender-neutral, just like your theme. Make sure the cake size is enough to serve all the guests. Click many pictures of cake so that when your baby grows up, they will know what their first cake looked like. You can use the number candle 1 or magic candles too. Ensure you order the cake in advance and check its delivery to avoid a Rachel-Ross situation.
Birthday Dress: It's your baby's 1st birthday party. They are the centre of all attention – make sure to deck them up but do not forget about their comfort. Choose clothes that are made of a soft cloth. Also, use baby diapers and keep baby wipes in handy. Seeing many people around can be an overwhelming experience for your baby, which can make them cry – hence ensure any makeup you do does not spoil their face in tears. Give them enough rest and set the timing for the 1st birthday party based on their sleep patterns. So they don't end up sleeping during the entire party.
Apart from these baby's first birthday ideas, don't forget to arrange a good photographer who can capture all the lovely moments by clicking pictures and recording videos. Also, include some cute little party favours in your baby's birthday ideas – especially for kids.
At Eurokids, we ensure your kids relish important occasions with great fun, celebrations and safety. Our motto is to provide experiential learning, enjoy life, and create memories. We even share pictures and videos with parents occasionally, so they don't miss memorable moments of their growing child. Click here to know more or to visit a Eurokids centre for preschool admission for your child.