Baby Bouncers and Swings – All You Need to Know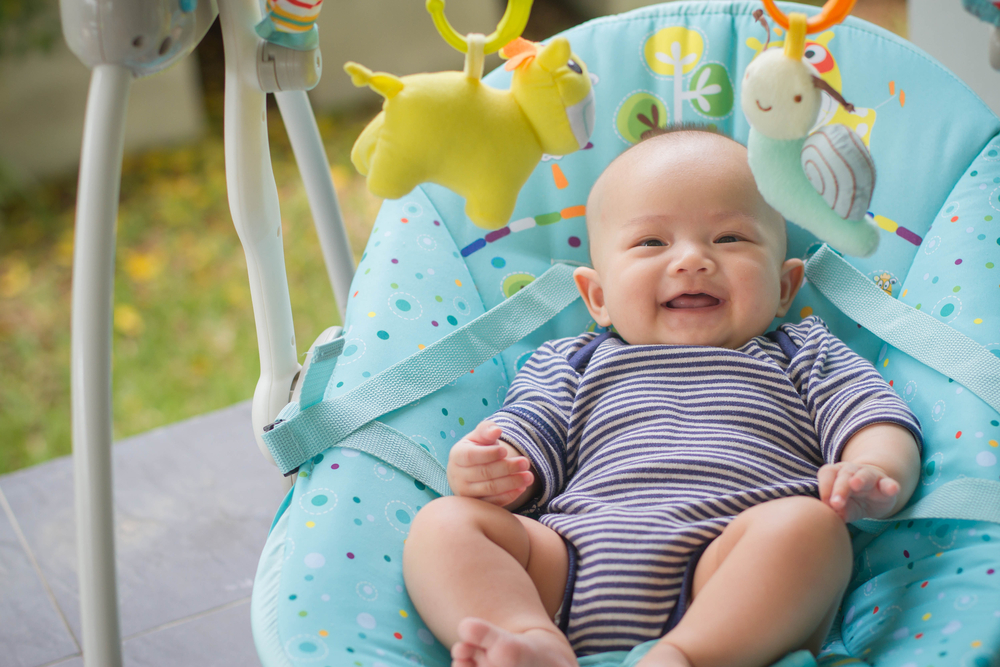 A Baby bouncer or swing is not one of the essential items to have for a baby, but it is nice to have one around especially if you don't have additional help around the house. Much as we'd like to, it's not feasible to carry your baby around all the time. There are times we may need to take a break, have a shower, eat our meals or maybe attend to other children and it is nice to have a baby bouncer or swing handy. Once strapped in your baby is safe and can play by themselves while you go about your other tasks, babies enjoy it too as it is comfortable and soothing. The best baby bouncers can easily be used till your little one is at least 6 months of age.
There is a difference between a baby bouncer and a baby swing. A baby bouncer is usually light weight and closer to the floor, it shakes with the baby's own movements or by some external nudge, they are fairly compact, some of them can also be folded for easy storage. A baby swing is larger and heavier than a bouncer and is mechanically powered. It can either rock back and forth or side to side, sometimes both ways as well. Some of the more expensive variants also have sound and vibration features.
Types of baby bouncers and swings – Depending on the design, use and functionality, these can be categories into-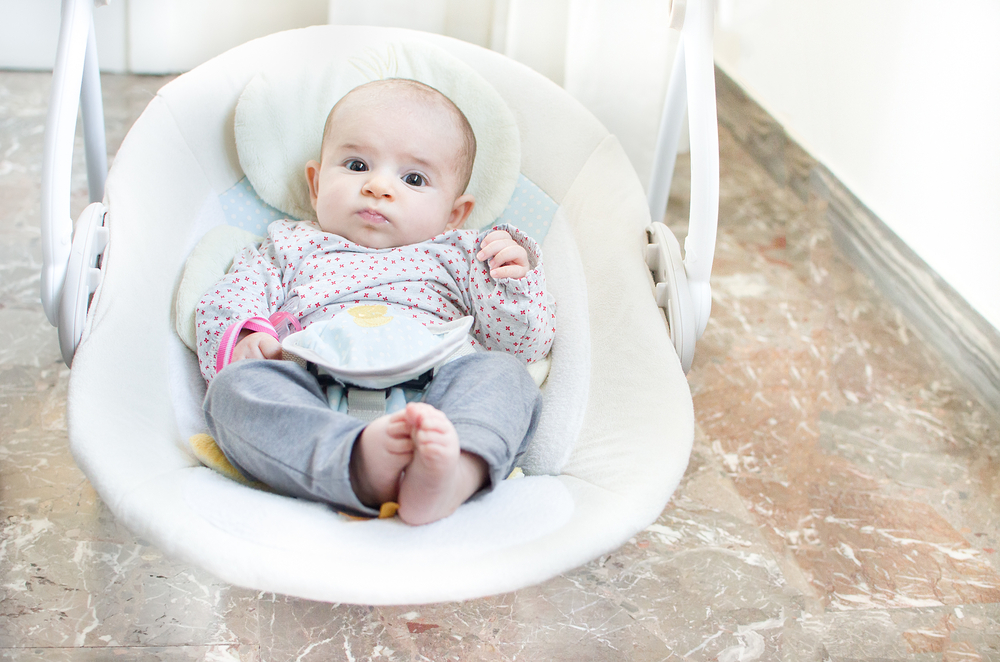 This works well to soothe a cranky baby, it is a mechanized device that moves either back and forth or side to side or both. This is usually used for newborn babies who haven't begun moving around too much.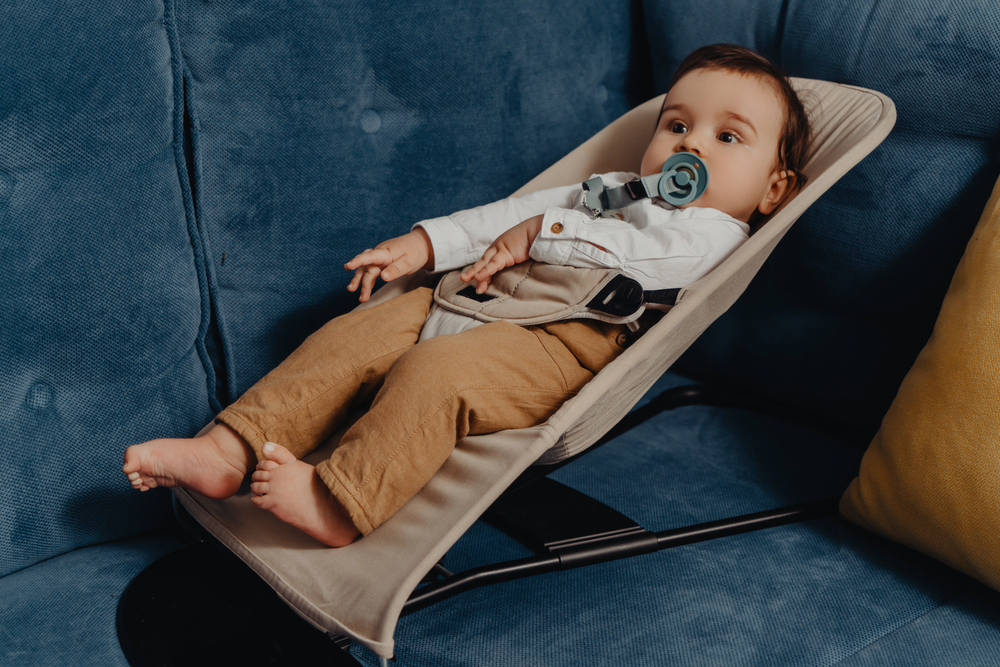 These are more compact, some of them can also be folded for easy storage. The baby bouncers are for slightly older, active babies and toddlers. It has a sturdy base and the bouncer moves based on the baby's movements.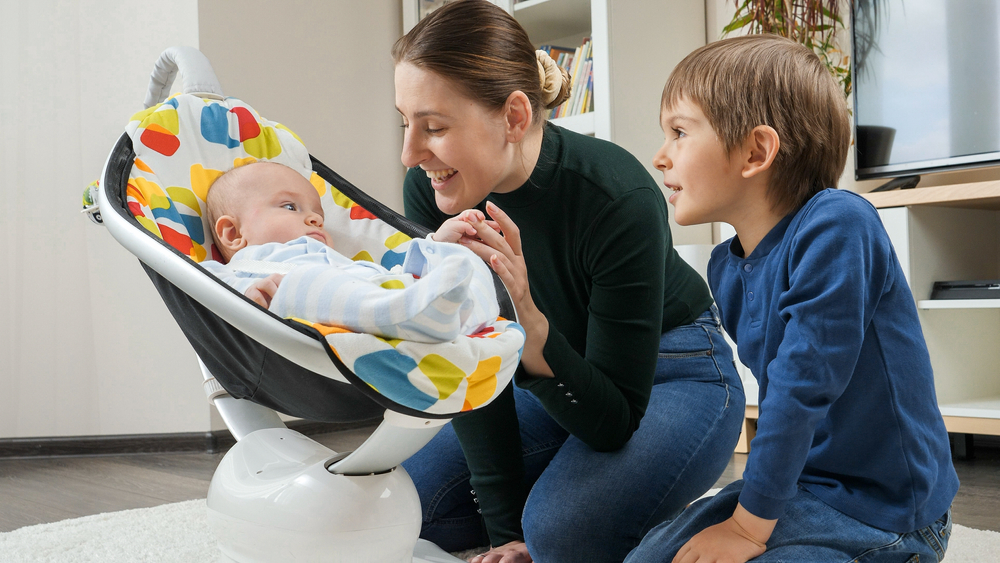 These baby carriers are compact seats with a curved base that can be used to rock your baby back and forth. Most of them also come with an attachment to stop the rocking motion and offer a sturdier base. Many baby car seats are designed this way.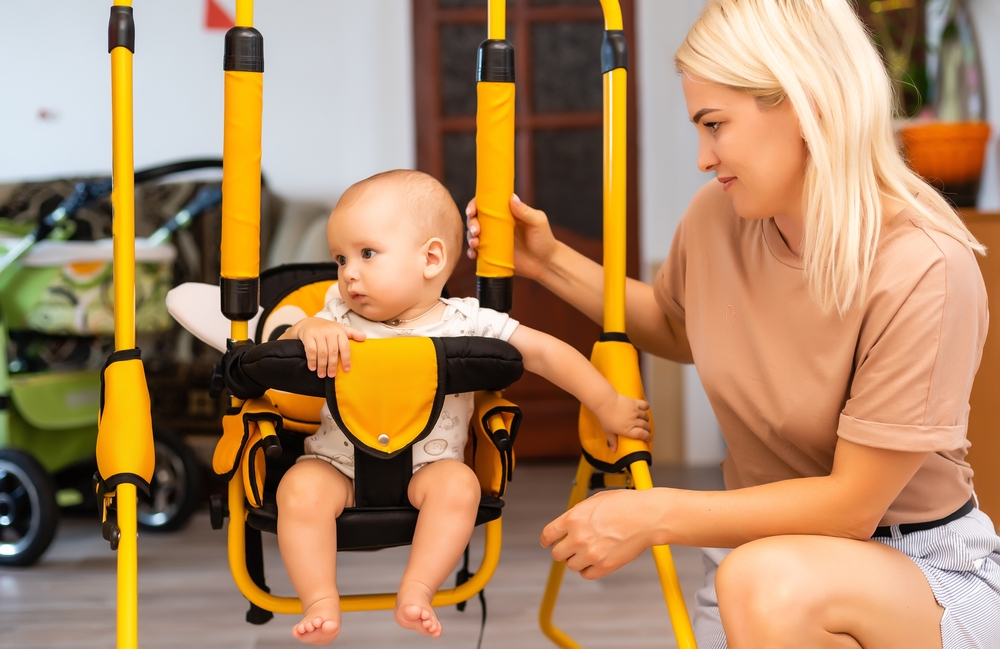 This is a swing for older babies. This consists of a swing chair suspended on a sturdy frame. Some of these swing chairs for babies can also be suspended on door frames. There are different models for different aged babies.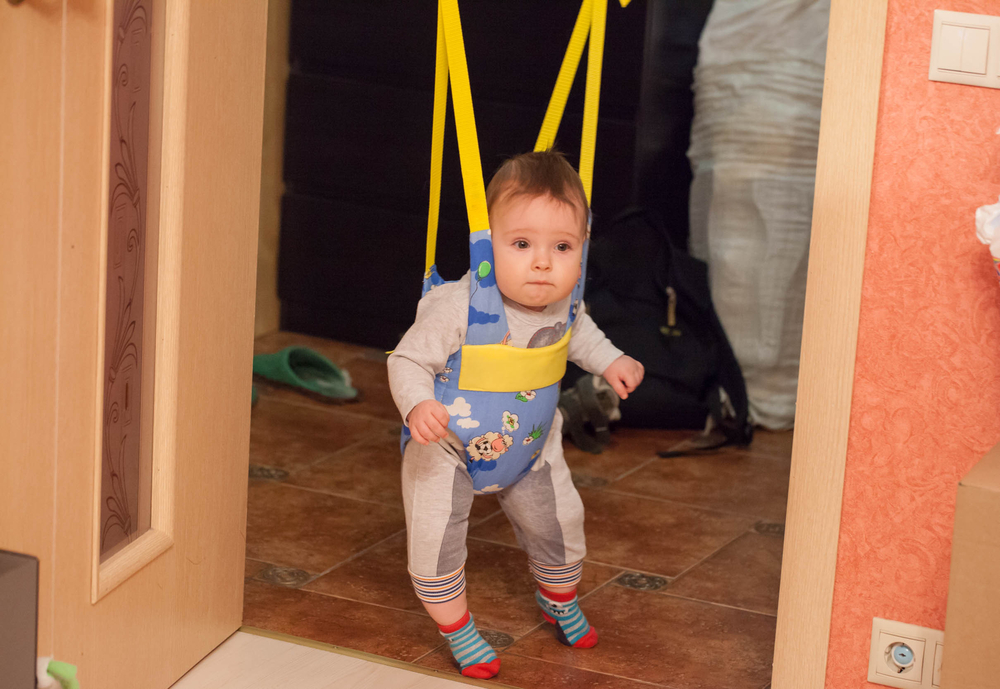 This type of bouncer is for an older baby. The baby is strapped into the jump bouncer which is either attached to a sturdy frame of its own or can be attached to any door frame. Your baby can either sit in it and gently sway about or jump and bounce around with their own movements.
While we've tried to showcase a basic version of each type of baby bounce and swings there is a huge range of variations and combinations that different manufacturers offer. Take your time to decide which of these you'd like keeping in mind your budget, space constraints, and needs of your baby. As mentioned earlier these are not one of the essentials you need for a baby like diapers for example, but it is nice to have around.
Things to keep in mind while buying baby and kid's bouncer –
➔ Space constraints – keep in mind the available space when you decide the size of your baby bouncer and swing as some models cannot be folded and stored away easily once set up
➔ Storing and Portability – how heavy is the baby bouncer, can it be easily carried from one place or room to another, and can it be folded easily and put away when not in use.
➔ Sound and motion – does the equipment operate smoothly with minimal sound or is the operating sound of the mechanized bouncer a bit loud. Can the sounds and motions offered be changed or turned off when not required. Keep in mind while cheerful songs are enjoyable when the baby is awake, one might prefer a soothing option when the baby is sleeping.
➔ Color of the equipment – does it come in a variety of colors to choose from so that it matches the children's room or your home decor, is it too bright or too muted. Do you like the prints offered?
➔ If you decide to invest in this, we suggest buying one that can be transformed and used as the child gets older. Babies grow rather quickly and before you know it, they outgrow the equipment bought for them. It is better to look for ones marked newborn to toddler age group so they can use it for a longer time and will save you the hassle of finding something more age appropriate.
➔ Adjustable backrest- having a baby floor bouncer with an adjustable back rest would mean you could use it for more than one purpose and for a longer duration.
➔ Cleaning – You'll be surprised to find out how easily your kid's bouncer gets dirty and stained. Having easy to remove and washable covers will save you much irritation in keeping it clean.
Pros and cons of using a baby bouncer- Let's take a quick look at some advantages and disadvantages of using a baby swing bouncer and rocker.
❖ Advantages
It's useful for soothing and relaxing a baby.
It helps calm down a cranky or colicky baby.
The bouncers and rockers help entertain the baby.
Gives you a safe place to put the baby while you do other things.
Enables you to rest tired arms.
❖ Disadvantages
Babies outgrow them very quickly.
Many of them with desired features are expensive.
Not all of them can be easily folded and put away when not in use.
Babies need to be supervised at all times when placed in it.
Very young babies cannot sleep in it and older babies should not use it for more than 30 minutes at a time.
Some precautions to keep in mind when using baby bouncers and swings –
Although kids' bouncers and swings are useful and designed keeping the baby in mind, no equipment is 100% safe and parents need to exercise some caution when using them.
★ Supervise your baby at all times when placed in a rocker, bouncer or swing.
★ Don't let a newborn sleep in a rocker as these do not provide much support.
★ Avoid using the rocker or bouncer for more than 30 minutes at a time.
★ Make sure the equipment is kept on a flat even surface.
★ Remember to secure your child with the straps provided in the kid's bouncer, even if it is just for a short time.
★ Always use a rocker or bouncer that can accommodate your little one's weight.
As new parents, it is but natural for you to be excited and to want to buy everything possible for your baby. The danger here lies in impulse buying, just because it looks "too cute", and then after using it only a couple of times you are stuck with it since its use is limited and your baby has outgrown it. We advise you to take your time, weigh out the pros and cons, it might be better to go for a simpler model that you use for a few months or a more expensive one that can not only be used for a longer time, but may also have multiple uses. It might be worth considering your baby's personality, do they enjoy sitting and playing by themselves or do they prefer moving about.
EuroKids is recognized as one of the top childcare centers in India. We recognize and acknowledge that each child is different and has different styles of learning, our centers are equipped to handle all these differences with ease. Click here to find and visit a center near you.