25 Best Picture Books for Kids: Ignite the Love for Coding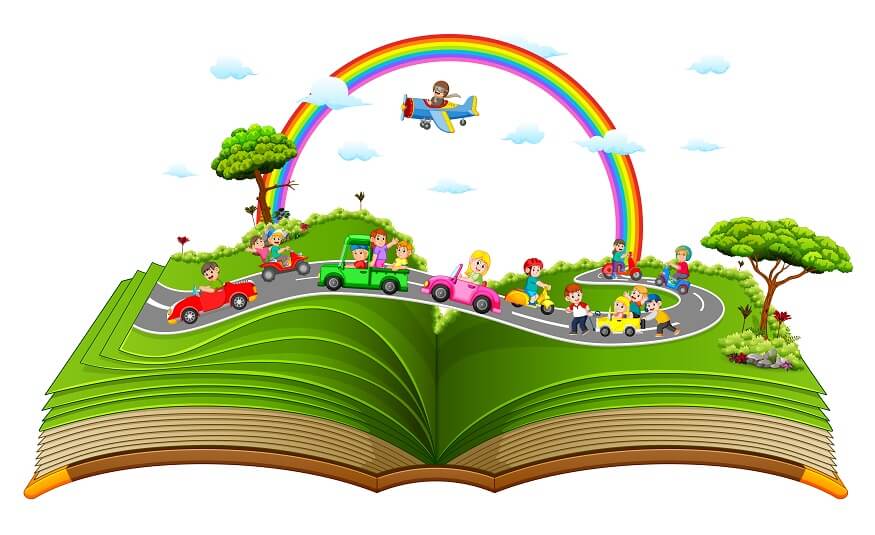 Imagine a world where a young explorer named Meera and their trusty robot companion, Byte, set out on a magical coding journey. With their imaginations as vast as the universe, they bring code to life through colourful adventures and captivating stories. By engaging in basic coding for kids, young learners can acquire essential computational skills that prepare them for the increasingly digital future. In this blog, we present to you the 25 best picture books for kids, where coding becomes a thrilling adventure. So, fasten your seatbelts, young coders, as we embark on an exciting journey that will ignite your love for coding! Wondering which is the best book for coding for beginners? Worry not! Here are 25 of the best books for coding for beginners.
"Hello Ruby: Adventures in Coding" by Linda Liukas
Linda Liukas takes young readers on a whimsical journey with Ruby, a small girl with a big imagination. Through colourful illustrations and engaging storytelling, this book introduces the basics of coding and computational thinking in a playful manner.
"If You Give a Mouse a Code" by Kiki Prottsman
In this clever adaptation of the classic children's book, Kiki Prottsman brings coding to life by showcasing the mouse's coding adventures. It teaches kids the basics of coding through a series of cause-and-effect scenarios, highlighting the importance of logical sequencing. Looking for a book that teaches basic coding for kids? Give this one a try.
"How to Code a Sandcastle" by Josh Funk
Join Pearl and her robot friend, Pascal, as they build a sandcastle using coding concepts. Josh Funk's book not only teaches children about algorithms and loops but also emphasises the significance of perseverance and problem-solving in coding.
"A Beginner's Guide to Coding" by Marc Scott
Written for young coding enthusiasts, this interactive guide presents coding concepts through puzzles, quizzes, and challenges. It covers essential coding topics such as variables, functions, and debugging, making it an ideal starting point for beginners.
"Secret Coders" by Gene Luen Yang and Mike Holmes
Hopper and her friends discover a mysterious coding secret in their school. This graphic novel series by Gene Luen Yang and Mike Holmes combines coding puzzles and engaging storytelling to introduce kids to the world of coding and computer science.
"JavaScript for Kids: A Playful Introduction to Programming" by Nick Morgan
For slightly older children interested in web development, this book is a fantastic resource. With its interactive exercises and step-by-step explanations, Nick Morgan introduces JavaScript, a popular programming language, in a fun and accessible way.
"Girls Who Code: Learn to Code and Change the World" by Reshma Saujani
Reshma Saujani, the founder of Girls Who Code, inspires young girls to dive into the world of coding and make a difference. This empowering book provides an overview of coding concepts and showcases real-life success stories of girls who code.
"Coding Games in Scratch" by Jon Woodcock
Scratch, a visual programming language, is a fantastic tool for beginners. Jon Woodcock's book introduces coding concepts through the creation of interactive games in Scratch, making learning to code an entertaining experience.
"Ada Lovelace, Poet of Science: The First Computer Programmer" by Diane Stanley
This picture book tells the story of Ada Lovelace, a remarkable mathematician and the world's first computer programmer. It highlights the importance of perseverance and the limitless possibilities that coding can unlock.
"Robots, Robots Everywhere!" by Sue Fliess
Sue Fliess takes young readers on a captivating journey through the world of robots. This book sparks curiosity about how robots work and demonstrates how coding plays a crucial role in making them function.
"Baby Loves Coding!" by Ruth Spiro
Ruth Spiro introduces coding concepts to even the youngest readers with this delightful board book. It features engaging illustrations and simple explanations that lay the foundation for coding literacy.
"Can You Crack the Code?" by Ella Schwartz
Ella Schwartz presents a series of exciting coding challenges for young readers to solve. This interactive book introduces coding concepts such as algorithms, loops, and conditionals through fun activities and puzzles.
"My First Coding Book" by Kiki Prottsman
Perfect for preschoolers, this interactive coding book engages children with its colourful illustrations and hands-on activities. It introduces coding concepts such as sequencing, loops, and patterns in a playful and accessible way.
"Coding with Scratch Workbook" by Dummies Junior
This workbook, designed for kids aged 8 and above, provides hands-on coding exercises using Scratch. It guides children through creating animations, games, and interactive stories while building their coding skills.
"Grace Hopper: Queen of Computer Code" by Laurie Wallmark
Learn about the pioneering computer scientist Grace Hopper in this inspiring picture book. It tells the story of her life and contributions to the field of coding, emphasising the importance of perseverance and innovation.
"How to Code a Rollercoaster" by Josh Funk
In this thrilling coding adventure, Pearl and Pascal embark on a rollercoaster-building mission. Josh Funk's book combines coding concepts with an exciting storyline, teaching kids about loops, variables, and debugging along the way.
"Coding Projects in Python" by DK
For young aspiring Python programmers, this book offers step-by-step coding projects that introduce essential programming concepts. From creating games to building websites, kids can develop their Python skills while having fun.
"Computer Coding for Kids" by Carol Vorderman
Carol Vorderman's book breaks down coding concepts into easy-to-understand lessons. It covers a range of programming languages and topics, allowing kids to explore different coding languages and develop their coding prowess. This is considered to be one of the best "coding for kids" books out there!
"Lift-the-Flap Computers and Coding" by Rosie Dickins
With interactive flaps and engaging illustrations, this book introduces kids to the world of computers and coding. It covers the basics of coding and explores how computers and algorithms work in a fun and interactive way.
"Hello, Scratch!" by Ryan Wing
Ideal for beginners, this book teaches coding concepts using Scratch. Through a series of projects and activities, kids learn to create games, animations, and interactive stories while building their coding skills.
"If: A Mind-Bending New Way of Looking at Big Ideas and Numbers" by David J. Smith
While not strictly a coding book, "If" offers mind-bending scenarios and big ideas that stimulate critical thinking and problem-solving skills—essential qualities for aspiring coders.
"Robopedia" by Brenna Maloney
"Robopedia" is a visually stunning book that explores the world of robotics and artificial intelligence. It showcases the intersection of coding and robotics, inspiring young readers to delve deeper into the possibilities of coding.
"Coding iPhone Apps for Kids" by Gloria Winquist and Matt McCarthy
For kids interested in iOS app development, this book provides an introduction to coding using Swift. It guides young readers through the process of creating their own iPhone apps, empowering them to unleash their creativity.
"Computer Coding Games for Kids" by Jon Woodcock
Combining coding and gaming, Jon Woodcock's book introduces coding concepts through interactive games and puzzles. Kids can learn programming concepts while having a blast with activities like debugging, building mazes, and creating their own games.
"Papa's Mechanical Fish" by Candace Fleming
In this charming tale, readers follow Papa as he invents an underwater contraption. Although not directly about coding, it celebrates creativity, innovation, and the spirit of exploration—core values in the world of coding.
Why Coding is Important for Kids
Now let's explore why coding is important for kids:
Enhances Problem-Solving Skills: Coding promotes critical thinking and problem-solving abilities. It teaches kids to break down complex problems into manageable steps and find creative solutions.
Fosters Creativity and Imagination: Coding empowers kids to bring their ideas to life through interactive stories, games, and animations. It nurtures their creativity and allows for self-expression.
Develops Logical Thinking: Coding teaches children to think logically and approach tasks systematically. They learn to identify patterns, analyse data, and make informed decisions—essential skills in various aspects of life.
Prepares for the Future: In today's digital era, coding has become a fundamental literacy skill. Introducing kids to coding equips them with the tools they need to navigate and excel in a technology-driven world, including various literacy activities.
Conclusion
Basic coding for kids is an excellent introduction to computer science, helping them develop problem-solving skills and logical thinking from an early age. As Meera and Byte continue their coding adventures, they discover the importance of quality education and nurturing environments. If you're looking for a preschool that cultivates a love for learning and encourages early coding exploration, look no further than EuroKids. With a child-centric approach and a curriculum designed to spark curiosity, EuroKids provides a foundation for your child's future coding endeavours.
By exploring the 25 picture books listed above, children can develop problem-solving skills, boost creativity, and cultivate logical thinking from an early age.
So, grab a book, embark on a coding adventure, and witness the wonders your child can achieve with the power of coding! And if you want to learn more about our specially crafted curriculum, visit the EuroKids centre nearest your house today!