Partner's Desk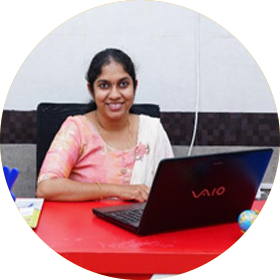 Mrs Rubini M.Sc, M.Phil, the founder of EuroKids Saibaba Colony, Thanking God! I'm so fond of babies and have teaching as my passion, and I thought of helping people who find it hard to take care of their babies and are worried about their kids' brain development. Also, I personally know what a toddler who hasn't received enough love from their parents could grow into.
As a solution that resolves all of these cases, I came up with the idea of launching a pre-school with the best-in-class curriculum that ensures babies' brain development and fun, enough to give them a great time in their pre-school as well.
I came to know about EuroKids, we already know it is a world-class pre-school franchise due to its effective curriculum. Once I came to know that they are open for the franchise, I jumped right on to it. Because I wanted to give my best to the children that come to us.
Since the day we started EuroKids, Saibaba Colony, we have productively taken care of around 200+ toddlers. Besides the babies, their parents are also happy with our service, and we will keep doing this good thing efficiently no matter how many pandemics come through! Of course with all your support.
- Mrs Rubini
Lorem ipsum dolor sit amet, consetetur sadipscing elitr, sed diam nonumy eirmod tempor invidunt ut labore et dolore magna aliquyam erat, sed diam voluptua. At vero eos et accusam et justo duo dolores et ea rebum. Stet clita kasd gubergren, no sea takimata sanctus est Lorem ipsum dolor sit amet. Lorem ipsum dolor sit amet, consetetur sadipscing elitr, sed diam nonumy eirmod tempor invidunt ut labore et dolore magna aliquyam erat, sed diam voluptua. At vero eos et accusam et justo duo dolores et ea rebum. Stet clita kasd gubergren, no sea takimata sanctus est Lorem ipsum dolor sit amet
- Lorem ipsum dolor
Lorem ipsum dolor sit amet, consetetur sadipscing elitr, sed diam nonumy eirmod tempor invidunt ut labore et dolore magna aliquyam erat, sed diam voluptua. At vero eos et accusam et justo duo dolores et ea rebum. Stet clita kasd gubergren, no sea takimata sanctus est Lorem ipsum dolor sit amet. Lorem ipsum dolor sit amet, consetetur sadipscing elitr, sed diam nonumy eirmod tempor invidunt ut labore et dolore magna aliquyam erat, sed diam voluptua. At vero eos et accusam et justo duo dolores et ea rebum. Stet clita kasd gubergren, no sea takimata sanctus est Lorem ipsum dolor sit amet
- Lorem ipsum dolor