Partner's Desk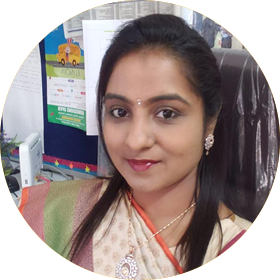 EuroKids Bangalore - Singasandra was established by Vinita Kala and Capt. Sanjay Kala and nurtured with great love and care. Our journey with EuroKids has been one of continuous growth, and we have shared each step of this journey. We are pioneers in the field of pre-school education, offering a structured and international curriculum. Our child-centric philosophy is dedicated to nurturing happy and confident children. What sets us apart is our personal touch, as we treat each child as a unique individual with their own personality, earning immense trust from parents who have become our biggest brand ambassadors.
EuroKids - Singasandra is the preferred choice among students seeking the best formal schools in Bangalore. We are committed to the holistic development of children, ensuring they leave our institution with confidence and well-developed mental, physical, and emotional skills. Every child is a winner at EuroKids.
Our school is conveniently located in the city, yet situated in a peaceful locale. We offer spacious and engaging classrooms, equipped with the best educational tools. Our staff is well-trained, and our outdoor spaces are expansive. We have had a consistent center head since 2006, and our school complies with all required regulations from the development authority and fire department.
EuroKids is the undisputed leader in the realm of pre-schools. When EuroKids selects a center head as its incredible partner, you can trust that the center excels in the parameters set by the best. When you step into EuroKids Bangalore - Singasandra, you are entering an incredible EuroKids center. No one does it better than us!
- Vinita Kala
Lorem ipsum dolor sit amet, consetetur sadipscing elitr, sed diam nonumy eirmod tempor invidunt ut labore et dolore magna aliquyam erat, sed diam voluptua. At vero eos et accusam et justo duo dolores et ea rebum. Stet clita kasd gubergren, no sea takimata sanctus est Lorem ipsum dolor sit amet. Lorem ipsum dolor sit amet, consetetur sadipscing elitr, sed diam nonumy eirmod tempor invidunt ut labore et dolore magna aliquyam erat, sed diam voluptua. At vero eos et accusam et justo duo dolores et ea rebum. Stet clita kasd gubergren, no sea takimata sanctus est Lorem ipsum dolor sit amet
- Lorem ipsum dolor
Lorem ipsum dolor sit amet, consetetur sadipscing elitr, sed diam nonumy eirmod tempor invidunt ut labore et dolore magna aliquyam erat, sed diam voluptua. At vero eos et accusam et justo duo dolores et ea rebum. Stet clita kasd gubergren, no sea takimata sanctus est Lorem ipsum dolor sit amet. Lorem ipsum dolor sit amet, consetetur sadipscing elitr, sed diam nonumy eirmod tempor invidunt ut labore et dolore magna aliquyam erat, sed diam voluptua. At vero eos et accusam et justo duo dolores et ea rebum. Stet clita kasd gubergren, no sea takimata sanctus est Lorem ipsum dolor sit amet
- Lorem ipsum dolor