Partner's Desk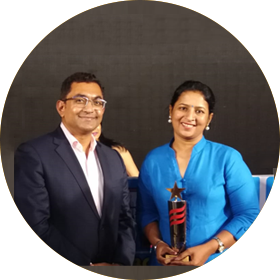 EuroKids Bakori is a venture of the Edify Wisdom Group based in Pune. Our founders are visionary leaders with a deep passion for their work, quick learning abilities, and robust leadership skills. They possess extensive corporate experience and knowledge in the fields of Management and Human Resource. EuroKids Bakori embodies the vision of Ms. Sandeep Kaur, Co-founder of Edify Wisdom Group.

At EuroKids Bakori, we offer a constructive, theme-based, and organized learning environment. Here, children are introduced to essential learning methods such as self-exploration, individual play, and physical activities. Our aim is to stimulate young minds, making them more receptive to the concept of education and knowledge absorption. This preparation equips them for the more traditional and highly competitive forms of education that lie ahead.

We strongly believe in the holistic development of every child. We foster an atmosphere of collaborative learning and development, enabling children to cultivate strong values and confidence. Our vision is to instill lifelong values that enhance your child's intellectual, social, emotional, and physical development. We strive to nurture global citizens who can contribute to shaping a better world for our community.

Located in the residential area of Bakori, our school is well-connected to Ivy Estate, Kesnanad, and Pune-Ahmednagar Road. EuroKids Bakori is certified as a safe school by Bureau VERITAS since 2019. Our teachers are state-certified, meeting all state requirements to provide excellent service. Additionally, we have trained and caring housekeeping staff dedicated to creating a nurturing environment for all children to thrive. Our facilities are safe, well-resourced, and provide opportunities for both indoor and outdoor play. We also offer convenient daycare and transportation facilities for our students.
- Sandeep Kaur
Lorem ipsum dolor sit amet, consetetur sadipscing elitr, sed diam nonumy eirmod tempor invidunt ut labore et dolore magna aliquyam erat, sed diam voluptua. At vero eos et accusam et justo duo dolores et ea rebum. Stet clita kasd gubergren, no sea takimata sanctus est Lorem ipsum dolor sit amet. Lorem ipsum dolor sit amet, consetetur sadipscing elitr, sed diam nonumy eirmod tempor invidunt ut labore et dolore magna aliquyam erat, sed diam voluptua. At vero eos et accusam et justo duo dolores et ea rebum. Stet clita kasd gubergren, no sea takimata sanctus est Lorem ipsum dolor sit amet
- Lorem ipsum dolor
Lorem ipsum dolor sit amet, consetetur sadipscing elitr, sed diam nonumy eirmod tempor invidunt ut labore et dolore magna aliquyam erat, sed diam voluptua. At vero eos et accusam et justo duo dolores et ea rebum. Stet clita kasd gubergren, no sea takimata sanctus est Lorem ipsum dolor sit amet. Lorem ipsum dolor sit amet, consetetur sadipscing elitr, sed diam nonumy eirmod tempor invidunt ut labore et dolore magna aliquyam erat, sed diam voluptua. At vero eos et accusam et justo duo dolores et ea rebum. Stet clita kasd gubergren, no sea takimata sanctus est Lorem ipsum dolor sit amet
- Lorem ipsum dolor