Partner's Desk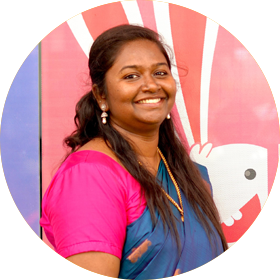 EuroKids International Preschool is a well-known chain of preschools in India that provides early childhood education to children between the ages of 2 to 10 years old.

The EuroKids International Preschool in Belapur offers a variety of programs that cater to the specific needs of children at different stages of development. These programs include Playgroup, Nursery, Junior KG, and Senior KG.

The curriculum at EuroKids International Preschool in Belapur is designed to provide a balanced blend of academics and extracurricular activities. The school aims to create a learning environment that promotes the holistic development of children, including their cognitive, social, emotional, and physical skills.

The facilities at the EuroKids International Preschool in Belapur include classrooms that are equipped with age-appropriate toys and learning materials, a play area for outdoor activities, and a library. The school also has a team of trained and experienced teachers who work closely with the children to ensure their overall development.

About the Founder - Anisha Kathiravan brings a wealth of knowledge and dedication to EuroKids Preschool Belapur, ensuring that every child's educational journey is enriched and meaningful. Her passion for education and her deep understanding of pedagogical principles enable her to create a nurturing and stimulating environment for young learners to thrive.

Under Anisha's visionary leadership, EuroKids Preschool is committed to providing a holistic and comprehensive educational experience. Her unwavering dedication to excellence and her focus on fostering a love for learning to make her an invaluable asset to the EuroKids family.

Anisha Kathiravan as the Centre Head of EuroKids Preschool, guiding our educational initiatives and shaping the future of our students. Her experience, expertise, and passion make her an exceptional leader in the field of education.
- Anisha Kathiravan
Lorem ipsum dolor sit amet, consetetur sadipscing elitr, sed diam nonumy eirmod tempor invidunt ut labore et dolore magna aliquyam erat, sed diam voluptua. At vero eos et accusam et justo duo dolores et ea rebum. Stet clita kasd gubergren, no sea takimata sanctus est Lorem ipsum dolor sit amet. Lorem ipsum dolor sit amet, consetetur sadipscing elitr, sed diam nonumy eirmod tempor invidunt ut labore et dolore magna aliquyam erat, sed diam voluptua. At vero eos et accusam et justo duo dolores et ea rebum. Stet clita kasd gubergren, no sea takimata sanctus est Lorem ipsum dolor sit amet
- Lorem ipsum dolor
Lorem ipsum dolor sit amet, consetetur sadipscing elitr, sed diam nonumy eirmod tempor invidunt ut labore et dolore magna aliquyam erat, sed diam voluptua. At vero eos et accusam et justo duo dolores et ea rebum. Stet clita kasd gubergren, no sea takimata sanctus est Lorem ipsum dolor sit amet. Lorem ipsum dolor sit amet, consetetur sadipscing elitr, sed diam nonumy eirmod tempor invidunt ut labore et dolore magna aliquyam erat, sed diam voluptua. At vero eos et accusam et justo duo dolores et ea rebum. Stet clita kasd gubergren, no sea takimata sanctus est Lorem ipsum dolor sit amet
- Lorem ipsum dolor