Partner's Desk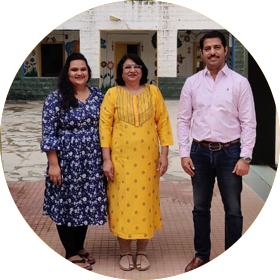 EuroKids Himmatnagar, known as 'Merryland School,' has been dedicated to delivering a world-class education to the children of Himmatnagar since 2009. Our primary focus is to provide an enjoyable and stimulating learning experience that fosters the overall growth of every child. Merryland has earned a well-deserved reputation as one of the leading preschools in Himatnagar. In recognition of our commitment, we were honored with the EuroKids Excellence Award in 2018, named as the Value Creator of the year.

We offer a range of programs that encompass both pre-school and kindergarten education. Our school is situated in the 'Palace Building,' a completely safe and secure location in the heart of the city. We have created an environment that encourages independence, meaningful play, social interaction, and, most importantly, a love for learning—laying the foundation for a lifelong journey of knowledge acquisition.

Guided by our 'Child First ideology,' we provide a well-structured, research-based curriculum that aims to enhance a child's mind, body, and soul. Our approach includes elements such as Euphonics, Mathslab, Scientific Sparks, Mindful+, EuroMusic, YogaKids, EuroFit, and our structured digital program, the 'Home Buddy App,' ensuring uninterrupted learning.

Our commitment to children's comfort is evident in the colorful, engaging classrooms, age-appropriate furniture, non-toxic toys, interactive books, and puppets that collectively create a playful and fun learning environment.

EuroKids International has received over 50 awards in the education sector, including the 'Best Early Education Innovative Curriculum 2020,' the 'Indian Education Award 2020,' and the distinction of being the 'Most Trusted Brand in the Education category of TRA's Brand Trust Report (BTR) 2020.'

Our greatest joy lies in witnessing our little ones flourish and embark on #AHappyBeginning in their learning journey.
- Partner
Lorem ipsum dolor sit amet, consetetur sadipscing elitr, sed diam nonumy eirmod tempor invidunt ut labore et dolore magna aliquyam erat, sed diam voluptua. At vero eos et accusam et justo duo dolores et ea rebum. Stet clita kasd gubergren, no sea takimata sanctus est Lorem ipsum dolor sit amet. Lorem ipsum dolor sit amet, consetetur sadipscing elitr, sed diam nonumy eirmod tempor invidunt ut labore et dolore magna aliquyam erat, sed diam voluptua. At vero eos et accusam et justo duo dolores et ea rebum. Stet clita kasd gubergren, no sea takimata sanctus est Lorem ipsum dolor sit amet
- Lorem ipsum dolor
Lorem ipsum dolor sit amet, consetetur sadipscing elitr, sed diam nonumy eirmod tempor invidunt ut labore et dolore magna aliquyam erat, sed diam voluptua. At vero eos et accusam et justo duo dolores et ea rebum. Stet clita kasd gubergren, no sea takimata sanctus est Lorem ipsum dolor sit amet. Lorem ipsum dolor sit amet, consetetur sadipscing elitr, sed diam nonumy eirmod tempor invidunt ut labore et dolore magna aliquyam erat, sed diam voluptua. At vero eos et accusam et justo duo dolores et ea rebum. Stet clita kasd gubergren, no sea takimata sanctus est Lorem ipsum dolor sit amet
- Lorem ipsum dolor