Partner's Desk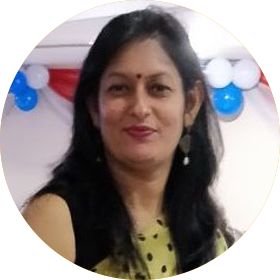 EuroKids believes and follows a child first ideology and provides fun based learning. It ensures a child's all-around development, in a safe, hygienic and home-like environment. Our preschool and kindergarten programs have a wide spectrum of activities for kids from 1.8 years to 6 years of age.
Our new age curriculum "EUNOIA", provides overall growth and development of a child by focusing on the mind, body and soul aspects of a child.
Making hygiene our priority, coupled with child-safe furniture, makes our preschool, one of the leading preschools in the area, perfect to give your child #AHappyBeginning in learning.

About the Founder
Ms. Jyoti Arora is the founder of EuroKids preschool Rajnagar Extension. She is a qualified professional with a Masters's Degree in Business Administration and has an experience of over 15 years in managing and educating children.
She has been a teacher with a passion for her profession. She loves to nurture her kids with love and ensures that her preschool blooms with happy and smiling faces.

Services
1. Preschooling: Play Group, Nursery, EuroJunior, and EuroSenior
2. Day Care: As childcare experts, we at EuroKids understand that leaving children at home while being away at work can be quite stressful. We provide for exclusive day care facilities to help parents focus better on their work and also be close to their toddlers. We focus on the hygiene and safety of our kids, while engaging them in fun-based learning activities by well-trained staff. Further, engagement through audio-visual aids and age-appropriate toys in a colourful and child-friendly environment adds to the child's excitement.
- Jyoti Arora
Lorem ipsum dolor sit amet, consetetur sadipscing elitr, sed diam nonumy eirmod tempor invidunt ut labore et dolore magna aliquyam erat, sed diam voluptua. At vero eos et accusam et justo duo dolores et ea rebum. Stet clita kasd gubergren, no sea takimata sanctus est Lorem ipsum dolor sit amet. Lorem ipsum dolor sit amet, consetetur sadipscing elitr, sed diam nonumy eirmod tempor invidunt ut labore et dolore magna aliquyam erat, sed diam voluptua. At vero eos et accusam et justo duo dolores et ea rebum. Stet clita kasd gubergren, no sea takimata sanctus est Lorem ipsum dolor sit amet
- Lorem ipsum dolor
Lorem ipsum dolor sit amet, consetetur sadipscing elitr, sed diam nonumy eirmod tempor invidunt ut labore et dolore magna aliquyam erat, sed diam voluptua. At vero eos et accusam et justo duo dolores et ea rebum. Stet clita kasd gubergren, no sea takimata sanctus est Lorem ipsum dolor sit amet. Lorem ipsum dolor sit amet, consetetur sadipscing elitr, sed diam nonumy eirmod tempor invidunt ut labore et dolore magna aliquyam erat, sed diam voluptua. At vero eos et accusam et justo duo dolores et ea rebum. Stet clita kasd gubergren, no sea takimata sanctus est Lorem ipsum dolor sit amet
- Lorem ipsum dolor