Partner's Desk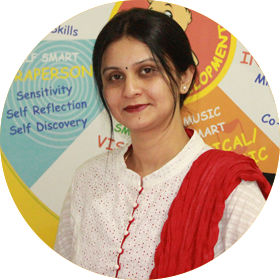 Children are not things to be moulded, but are people to be unfolded""
This motto is what Chethana Adarsh, the Centre Head of "Bloom" EuroKids truly believes in. With a well-educated background of B.E. in Industrial Engineering and Management and Masters in Business Administration, she found her true calling when she had a child. Just like any other parent, Chethana set out to find the best preschool for her child and came across EuroKids. Little did she know that EuroKids would become a huge part of her life. She observed the values that systematic early education added to her kid's life, which inspired her to start her own centre. She has been associated with EuroKids for the past 12 years and is heading EuroKids - BTM Layout and EuroKids-Kanakapura Road centres in Bengaluru.
In her words, "EuroKids has always supported us by giving us the best of curriculum, training and always keeping the franchisees motivated to do better". Her stringent attention to perfection has resulted in the schools getting a safety certification from BUREAU VERITAS.
Accolades and recognitions have followed Chethana in appreciation of her efforts. Award of ""Emerging Centre of 2012"" was bagged by EuroKids - BTM Layout. Thanks to her excellent people skills and a keen understanding of children's needs, she has been able to provide a wholesome ecosystem for children, where learning is enjoyable and not a mere task to be completed. She strives to inculcate a passion for learning in children because she believes that once a child develops a passion for learning, the child will never cease to grow. Until now more than 3000 kids have been nurtured in her centres and are admitted to good mainstream schools. Her team involves qualified and well-trained teachers to ensure they are completely prepared to shoulder their responsibilities in the best possible manner.
- Chethana Adarsh
Lorem ipsum dolor sit amet, consetetur sadipscing elitr, sed diam nonumy eirmod tempor invidunt ut labore et dolore magna aliquyam erat, sed diam voluptua. At vero eos et accusam et justo duo dolores et ea rebum. Stet clita kasd gubergren, no sea takimata sanctus est Lorem ipsum dolor sit amet. Lorem ipsum dolor sit amet, consetetur sadipscing elitr, sed diam nonumy eirmod tempor invidunt ut labore et dolore magna aliquyam erat, sed diam voluptua. At vero eos et accusam et justo duo dolores et ea rebum. Stet clita kasd gubergren, no sea takimata sanctus est Lorem ipsum dolor sit amet
- Lorem ipsum dolor
Lorem ipsum dolor sit amet, consetetur sadipscing elitr, sed diam nonumy eirmod tempor invidunt ut labore et dolore magna aliquyam erat, sed diam voluptua. At vero eos et accusam et justo duo dolores et ea rebum. Stet clita kasd gubergren, no sea takimata sanctus est Lorem ipsum dolor sit amet. Lorem ipsum dolor sit amet, consetetur sadipscing elitr, sed diam nonumy eirmod tempor invidunt ut labore et dolore magna aliquyam erat, sed diam voluptua. At vero eos et accusam et justo duo dolores et ea rebum. Stet clita kasd gubergren, no sea takimata sanctus est Lorem ipsum dolor sit amet
- Lorem ipsum dolor