Partner's Desk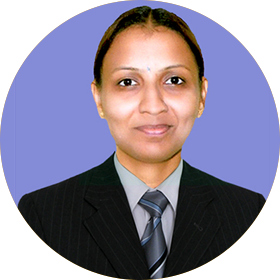 I am a professional Doctor and my husband is an Advocate in Gujarat High Court, my grandfather, Lt. Shree Ranchhodbhai Solanki M.L.A of Anand said that ""If you really love what you do, you never have to work a day in your life."" Not all of us are lucky enough to be working in jobs that we really enjoy. A Pre-School is a stepping foot of every kid & tiny kids are GOD, where they come to know about education, manners and many more. Our main motto is to improve welfare of our upcoming generation by good education with moral duties and good manners. Preschool is the best platform to do this social work. So, we chose to enter in the school category.
OUR VISION : Our aim is to prepare students in such a manner as to make them globally acceptable in all walks of life. Just as the purpose of food is not only to fill the stomach but also to provide a healthy and rich diet, in the same way, the purpose of education is not only to teach from books to the children but also to educate them in such a manner that they enrich their lives with the diet of good culture (SANSKAR), smartness, knowledge and awareness so they become the torchbearers in the fields of science, art & culture. We envisage the growth of the children with a definite objective of equipping them with the latest tools of excellence to face all the challenges and emerge out successfully.
It is an honour and a privilege to be the Principal of EuroKids Anand (Pre-school) to be a part of a school that stands for excellence and continuously strives to set the highest standards. I am happy to be a part of an Institution that is a living place that shapes children's lives and builds their character. Education is a very wide horizon itself which covers all integral spheres of life, Personality Development, Self-grooming, Mental growth towards Innovations, Responsive awareness towards fellowship and strength to develop Rationalism in all the aspects, towards the Achievements in the inner and outer life. Bharat Mata aur unki vedic sanskriti ki hamesha Jay Ho."
- Dimple - Virendra solankir
Lorem ipsum dolor sit amet, consetetur sadipscing elitr, sed diam nonumy eirmod tempor invidunt ut labore et dolore magna aliquyam erat, sed diam voluptua. At vero eos et accusam et justo duo dolores et ea rebum. Stet clita kasd gubergren, no sea takimata sanctus est Lorem ipsum dolor sit amet. Lorem ipsum dolor sit amet, consetetur sadipscing elitr, sed diam nonumy eirmod tempor invidunt ut labore et dolore magna aliquyam erat, sed diam voluptua. At vero eos et accusam et justo duo dolores et ea rebum. Stet clita kasd gubergren, no sea takimata sanctus est Lorem ipsum dolor sit amet
- Lorem ipsum dolor
Lorem ipsum dolor sit amet, consetetur sadipscing elitr, sed diam nonumy eirmod tempor invidunt ut labore et dolore magna aliquyam erat, sed diam voluptua. At vero eos et accusam et justo duo dolores et ea rebum. Stet clita kasd gubergren, no sea takimata sanctus est Lorem ipsum dolor sit amet. Lorem ipsum dolor sit amet, consetetur sadipscing elitr, sed diam nonumy eirmod tempor invidunt ut labore et dolore magna aliquyam erat, sed diam voluptua. At vero eos et accusam et justo duo dolores et ea rebum. Stet clita kasd gubergren, no sea takimata sanctus est Lorem ipsum dolor sit amet
- Lorem ipsum dolor